1998 Citroen Xantia 1.9TD Sensation
---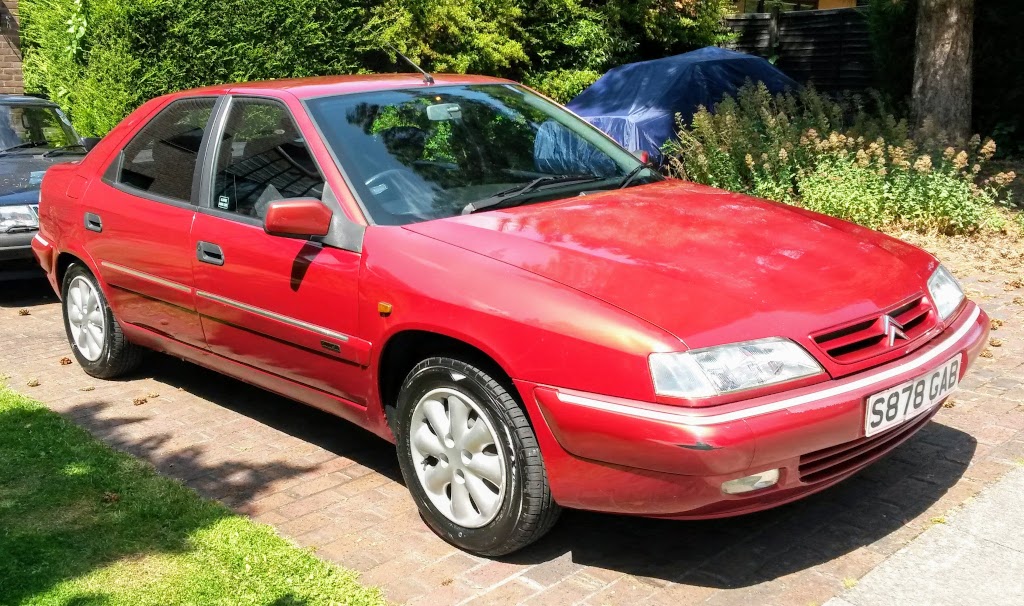 Folks who have known me for a while will know that I tend to like cars which fall into a few different categories. Ones which are fun to drive (see Cappuccino and Metro), ones which hark back to a day when cars were simpler machines (the Lada and Skodas), but I also have a big soft spot for highly comfortable luxobarges.

Back in the early 2000s, I had a Saturday job at a used car dealership, and one of our regular motors at the time was the Xantia. I really loved how they drove, and the levels of comfort offered. The legendary magic-carpet like ride offered by the hydropneumatic suspension of course was hard to beat for anything other than earlier Citroens. Back at the time though they were massively too rich for my student budget, with even rough examples fetching north of GBP 1000, so I never really looked at them as a prospective buyer.

Fast forward fifteen years though, and I discovered when randomly poking around on Autotrader (always dangerous!) that the bottom appeared to have fallen out of the Xantia market, with a number of cars available for less than a grand, and quite a few below GBP500. The reason I was looking around on Autotrader was that I was looking for something cheap and essentially disposable to run over the winter and while I got the head on the Skoda sorted out.

One which particularly caught my eye was up in Derby, which was a trade in to clear at a dealer who had decided to stick a year's MOT on it and see it it would shift. It certainly wasn't the tidiest car out there with a few dings and scrapes, and was up on the miles by most people's standards which as I predicted seemed to have put most people off, hence even with a GBP395 pricetag it was still there after a week. When the dealer dropped it to 295, I decided that it had to be worth a punt as I could get the car at that and even if it turned out to be a complete sack of spanners, could break it and scrap the shell and make money. It seemed a perfect way to both get me a winter hack and to scratch the Xantia itch in one shot, so we decided to go take a look. The mileage that was knocking on the door of 200K miles didn't bother me given that I know from prior experience that the XUD engine should be well in its prime at that mileage so long as it's been looked after reasonably well and not overheated.

A few hours later (and nearly running out of diesel when I discovered how far from the motorway and poorly signed the services at Donington are!) we got home with this.


As fully expected for three hundred quid I'd compiled a list of gremlins by the time I'd got home and had a chance to give the car a once over.

[] Front suspension spheres were shot resulting in a car that bounced like a cartoon car. Rears seemed OK.
[] Interior smelled of coolant leading to suspicions of a leaky heater matrix (though the carpets were dry so it couldn't be too dire).
[] A/C wasn't working.
[] Heater blower worked only occasionally and only on full speed.
[] Few dings outside.
[] Tyres were at the end of their life, though still legal (and one was fitted the wrong way around).
[] Clearcoat flaking off the roof and bonnet.
[] Engine bay filthy, but free of any apparent bodgery.
[] Missing washer bottle cap.
[] Interior in need of a darn good clean.
[] Rear headrests missing.
[] Non-OEM stereo fitted leaving a gaping hole in the dash (so no working steering wheel controls).
[] No working windscreen washers.
[] Headlights that were about as much use as a pair of candles.

Given the price I'd paid for the car I was pretty happy with that list. Front spheres were quickly resolved by a trip down to A5 Salvage for a reasonable used set which restored the ride to a decent level (which also allowed me to source a replacement cap for the washer bottle and a set of rear headrests). A full set of comfort spheres are probably in the car's future. A change of the various filters and the oil resulted in a car that's running really rather well. About the only actual running issue (if it can be described as such) is that the glow plug on no 1 cylinder is a bit lazy on cold mornings. I reckon that the other three which are easily accessible have been changed, but the hard to get to one that's buried under the fuel pump has been ignored. I've got a fresh set here that I just need to find time to fit.

Signing up to the French Car Forums revealed a warm welcome, and a gent just down the road from me who had a spare heater blower which restored that to correct operation.

Shortly after that the car was treated to a new full set of tyres which transformed the handling and restored the ability to stop in anything less than half a mile on a wet road.

The issue with the cooling fans is quite well documented on the Xantia, and requires a bit of electrical detective work. The car has two fans which can operate in both high and low speed modes. In low speed mode the two fans are connected in series, so operate at roughly 1/2 their full speed. When the engine management system calls for full cooling, they are connected in parallel. At that point in time random pedestrians start getting sucked off the pavement as they shift quite an alarming amount of air. Now, there are a few situations which can result in this system falling down. Firstly is if there is any fault with any of the relays or the fan motors the low mode will cease to work because the fans are in series. While the fan motors were originally pretty reliable, even the youngest of them are 10+ years old now and are in quite an exposed position on the nose of the car. It turned out in my case that I had one dead motor and one motor where the signal from the ECU to its relay had done awry. Wiring faults are also relatively common to the fans at this sort of age as the wiring loom passes through a pretty exposed location on its way from the engine bay to the nose of the car - its a bumper off job to investigate that though unfortunately and time hasn't allowed me to investigate properly.

Currently there's a bit of bodgery going on here - the high/low speed changeover relay has been bypassed, and the relay coil feed from the good fan channel has been looped into the relay coil attached to the working fan - so if the car calls for any cooling the working fan will run at full speed. It's not perfect, but it keeps things under control for the time being and is perfectly capable of keeping the car well under 90C unless you're really working the engine hard on a hot day. A needle's width below 90C is the highest I've seen it, and that was on a 27C day, with A/C on and with me really giving it beans up a long hill. I don't recommend that you do this - but it's got me out of a corner for now.

Next on my list was the dead A/C. I didn't have much hope to be honest on a system with nearly 200K miles on it with what at far as I could tell was the original condenser on it, but I figured it was worth a shot. So I took it up to Formula 1 at Newport Pagnell and asked them to take a look at it. Both myself and the tech on duty were quite surprised when it was connected to the machine and the needles moved. There was still a decent amount of gas in there, only just below the point where the LP switch should have triggered. So the machine went about its full recovery, vac, and charge cycle and the result of this was my having icy cold A/C when I asked for it, and a fully functional climate control system. That was a couple of months ago now, and it's still behaving. With 32C on the thermometer the other day, I was very grateful for this even though keeping a very careful eye of course on the temperature gauge given only one fan is working.

A little while ago I finally managed to get the poor car, who has been named "Gabriel" based on the last few letters of the registration number, a decent clean. The results are shown below. Hasn't scrubbed up half bad for a 199K mile 17 year old car.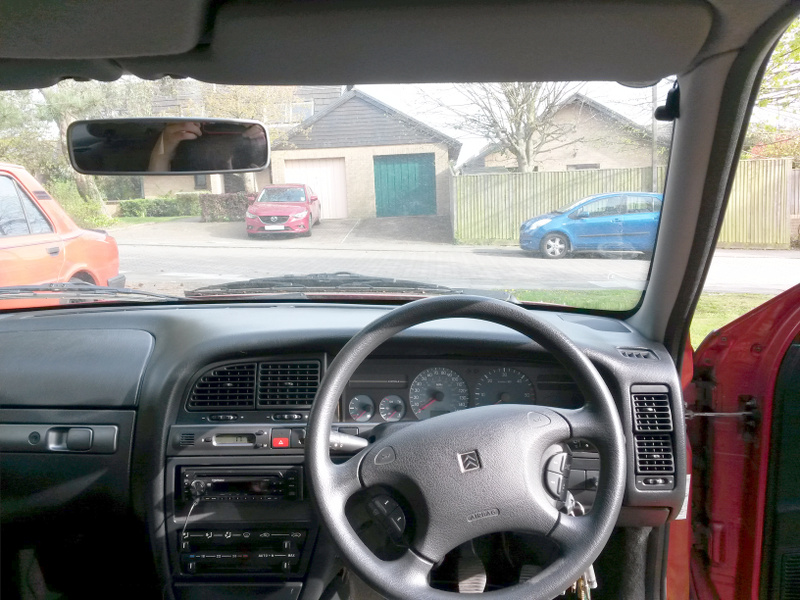 Sorry for the horrible lighting in this photo, the sun was quite low in the sky so the lighting was a pain!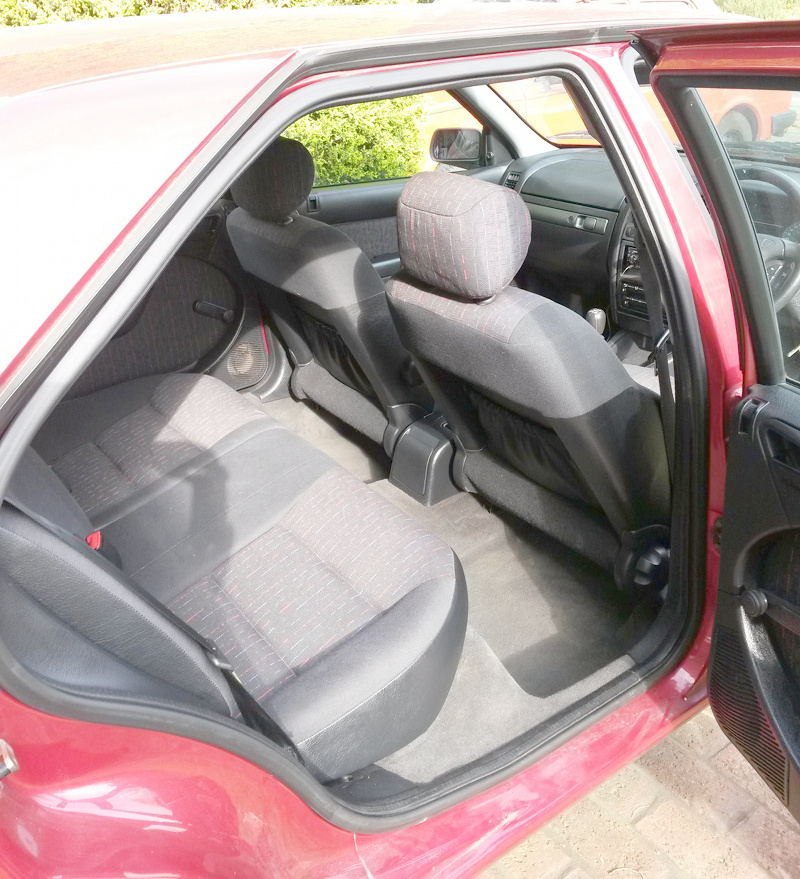 It wasn't long after this that we went on a holiday to Center Parcs, and wanted to take my Sinclair C5 along - so we had to answer the question of whether you can fit a C5 in the back of a Xantia?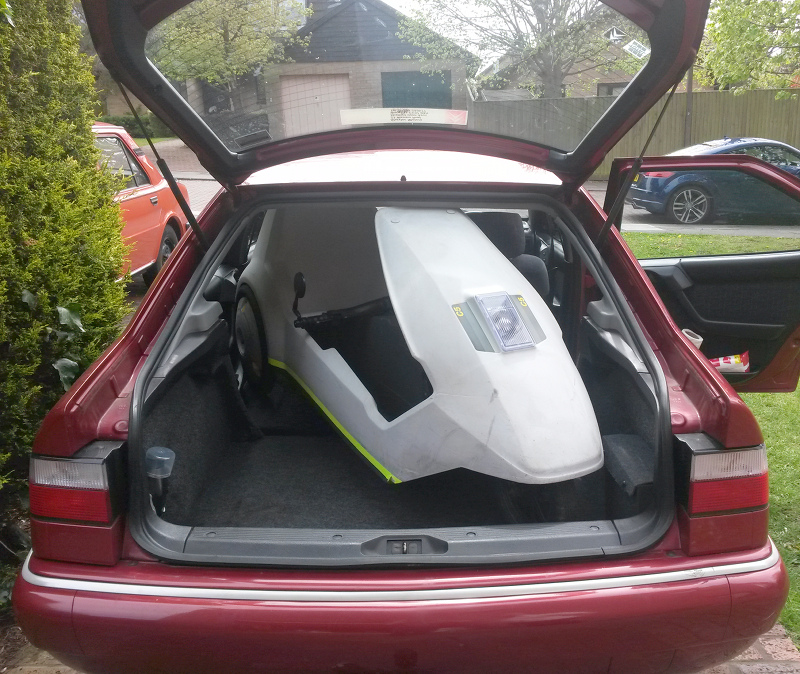 Yes, yes you can!...Though you do need to remove the rear seat base to get enough length. Not really a big headache though as it takes about five minutes to remove.

Not much more has been done other than this so far, aside from working on attacking the flaking clearcoat. My approach to this has been to blast the loose crud off (using the rotary jet attachment on my pressure washer), and then re-spraying it with basic rattle-can clearcoat. The finish is never going to be as good as it originally was, but this is a 200K mile car and my aim is to have a car that is "presentable from a few paces." I don't mind her having a few battle scars visible, provided that it's obvious that reasonable measures have been taken to tend to the wounds.

The roof has been the main target of this, and has a couple of coats on. I'll need to get a couple of photos once the car is actually clean (sadly this time of year that's tricky given the proximity of many trees which like to cover everything for a mile around in pollen). I'm still of two minds how to tackle the bonnet. My garage is shortly to be clear hopefully, so I may well remove it and spray it inside which should hopefully minimise the problems of capturing bugs and pollen in the finish.

Something I definitely need to do (once I've replaced that broken wheel trim...Keep meaning to and keep forgetting!) is to get the car out somewhere nice and to do a proper photoshoot as I have with most of my cars at some point. If/when I do expect the photos to appear here!
Ah yes, updates!
It's astonishing how well this car responded to nothing more than a damn good cleaning!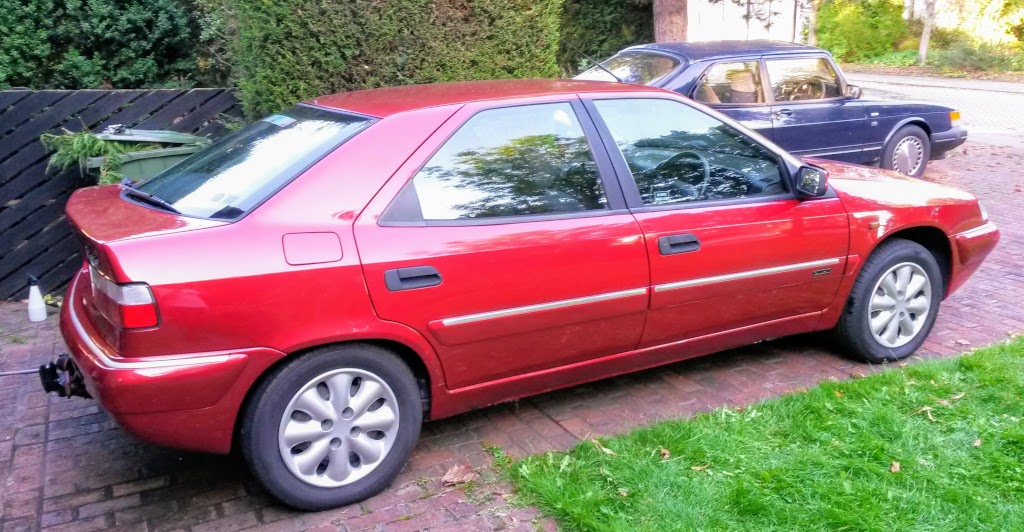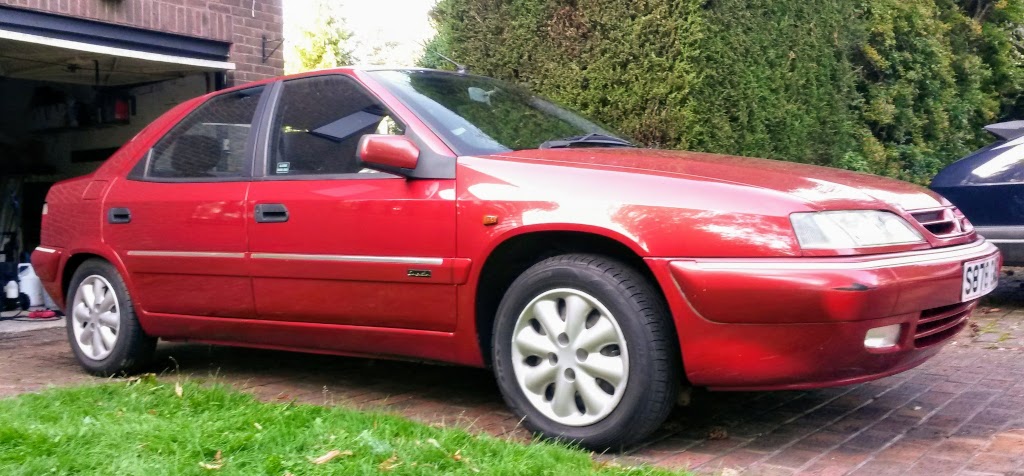 I keep getting surprised by how good a shine you can get on paintwork with a good clay, polish and wax, even after 200,000 miles!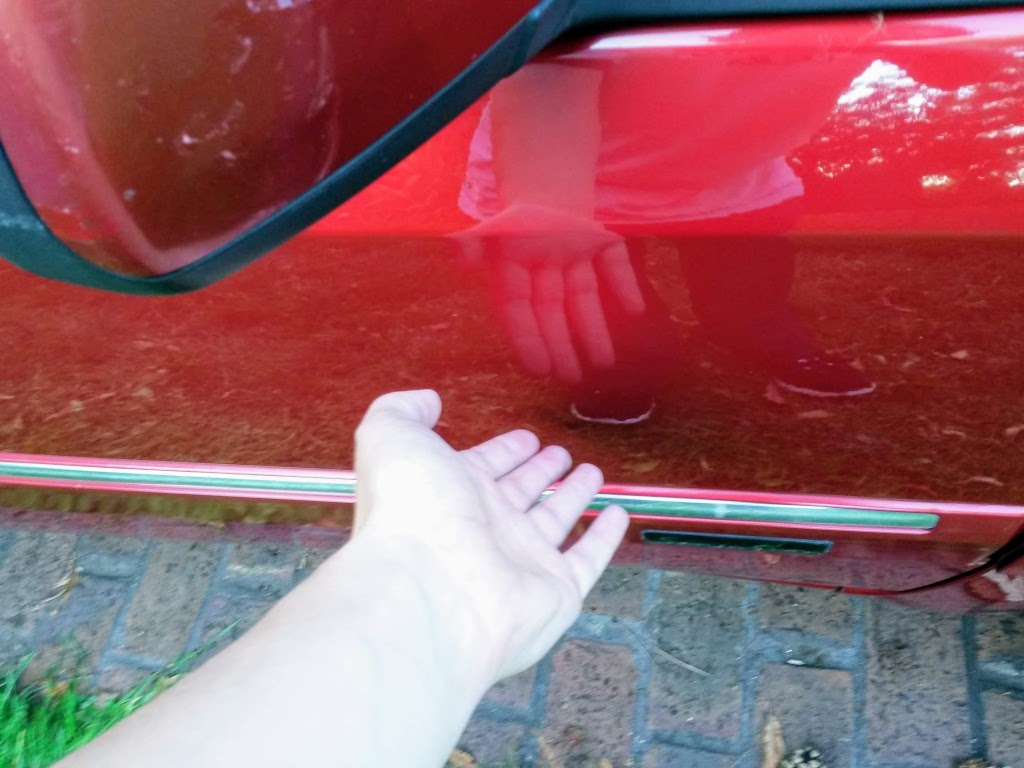 Does this seriously look like an interior with 200,000 miles of wear and tear on it?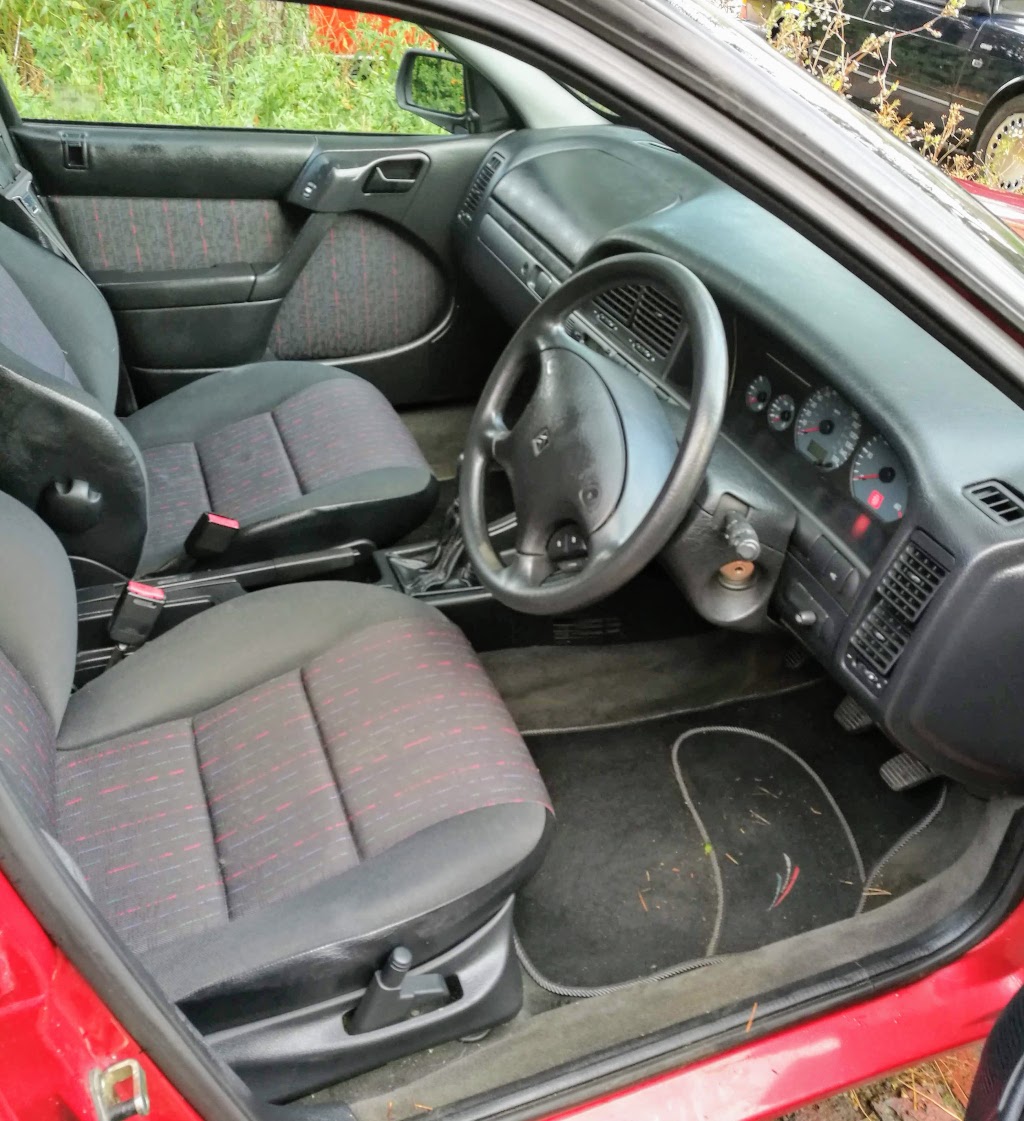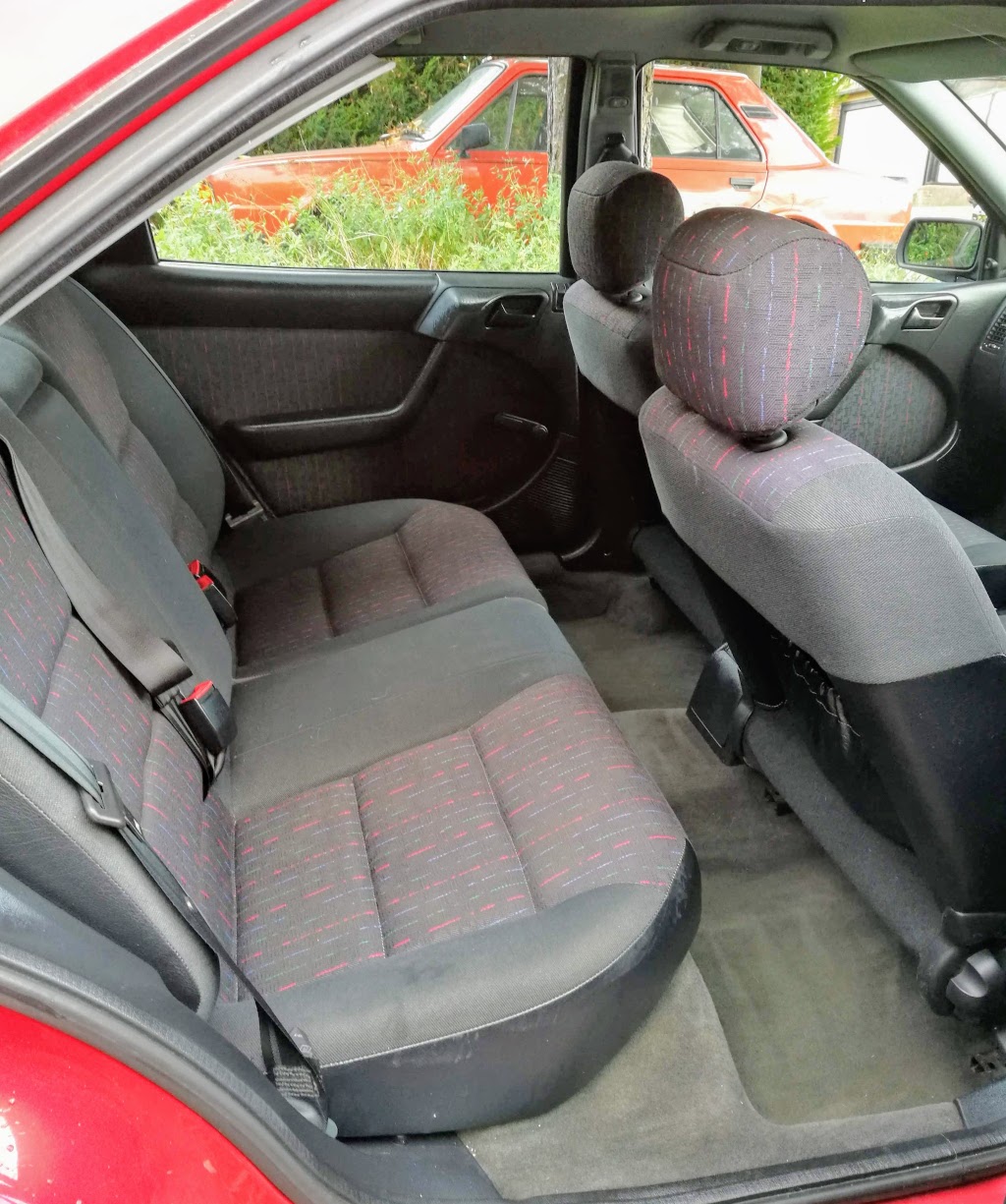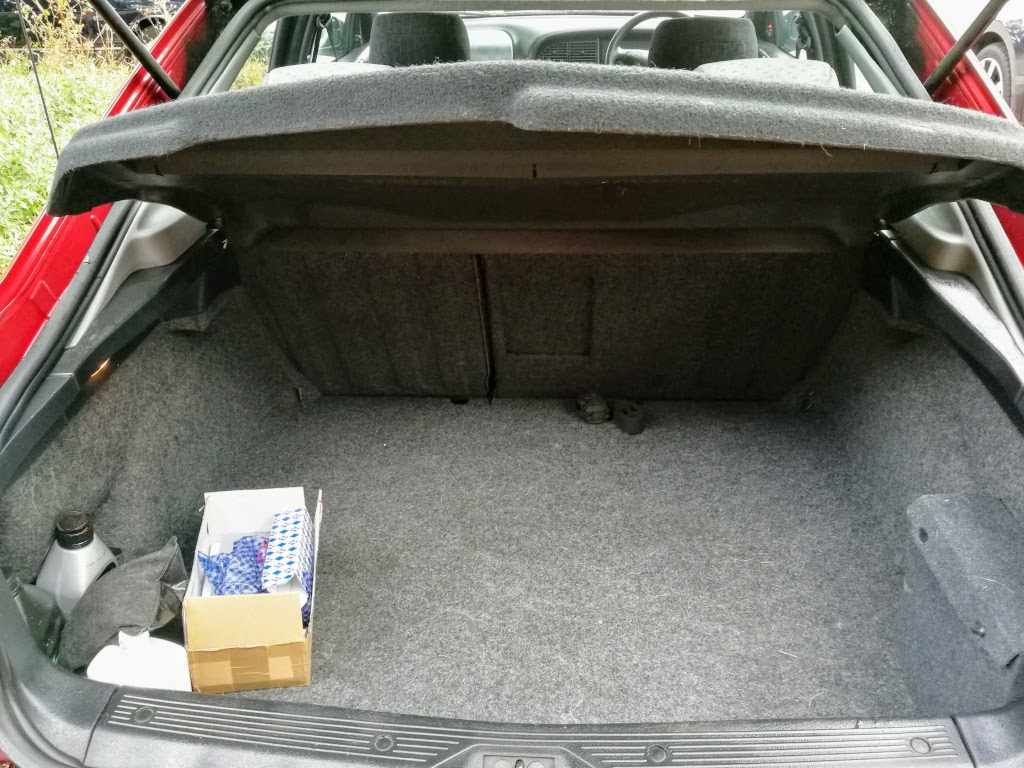 The only problem which turned out to be somewhat persistent was actually a water ingress problem which was resulting in a puddle under the rear seats. This was *eventually* traced to a damaged rear window washer jet. This wasn't without a good deal of head scratching though and resealing of the roof to B pillar seams, around the tailgate and general bafflement. A bit of sticky tape over the washer jet stopped it however, a new jet obviously being the long-term fix.
2015 was the year which sadly saw the passing of my father, who had been suffering heath problems for a long while but had really gone downhill since last year when my mother passed away quickly following a short fight against cancer. This resulted in me inheriting a small amount of money, and I decided to do something with it as he would have wanted rather than sit on it. So I bought the Lada of the model that I'd been after for bloody years. This did however mean that I needed to clear a driveway space! Sadly that meant that the Xantia needed to move on to a new home.
Luckily a local friend who is also a marque enthusiast stepped in and gave it a good home, before passing it then on to another gent elsewhere in the country who is continuing to use the car. Sadly time did eventually catch up with it, but after 215K miles plus change she had a pretty good run.
By some somewhat roundabout set of events, I actually wound up with the driver's seat from this back in my own garage, where it now lives in my 1973 AC Model 70!
This was not however to be the end of my Xantia ownership...As through a rather unexpected turn of events another Xantia found its way into my driveway in late 2017, albeit in the form of a late Series 1 Activa...
So there won't be any more update to come on this particular page, but there will be more green-blooded Citroen tales to tell elsewhere on this site.

---
Manufacturer: Citroen

Model: Xantia 1.9TD Sensation
Engine: 1905CC 4-cylinder in-line turbo diesel (with intercooler), PSA XUD9TE.
Gearbox: 5-speed manual (BE3).
Power output: 90bhp
0-60mph:
Max speed:
---
Updates:
25th January 2021: Minor page formatting changes to improve readability on mobile devices.
23rd April 2023: Fixed a number of broken images and made some further page formatting changes to improve readability.
28th April 2023: Revised Statcounter code to allow for HTTPS operation.
---