ARCHIVED PAGE - PLEASE READ!
This page was written by me a long, long time ago. As such the quality of the writing, photography and/or any conclusions I may have come to simply do not stand up to the levels I consider necessary these days.
I do not believe in deleting things outright though as I feel that these pages form something of a time capsule from an earlier stage in my life, and may still be of some interest to folks who have been coming here for a long time. So instead of deleting this page it has been archived.
PLEASE NOTE THAT THIS PAGE HAS BEEN ARCHIVED, AND SHOULD BE CONSIDERED "FOR INTEREST ONLY" AND NOT BE USED FOR ANY OTHER PURPOSE. LINKS, PRICING ETC ARE LIKELY TO BE OUTDATED AND WILL NOT BE UPDATED.
---
Nuwai AT-100.
---
Description:
This is the second in Nuwai's family of lights that I have owned. The AT-100 is a very smart looking aluminium flashlight, feeding 10 screaming bright white LEDs (initial inspection leads me to believe that they're Nichia parts). The light features a simple and reliable rubberised push button for operation, aggressive knurling on the head, body and tailcap and a simple but effective ribbed rubber portion on the barrel to aid in retention. There is also a small loop in the tailcap to affix the supplied lanyard to.
Size wise, the AT-100 is somewhere just below a 2C Maglite. The barell is C-cell size in terms of diameter, but a little shorter than the 2C Mag, and the head significantly so. Measures 168mm x 43mm (diameter at widest point). Weighing in at a solid feeling 240 grams when loaded with 4AA Alkaline batteries (which are supplied), and 160g empty.
The AT-100 uses a mirrored reflector behind the LED's to capture a little of the spill light and to project it in a more useful direction (forward of course), and has the LED's aimed in such a way as to produce a nice smooth beam. There are also two operating modes, allowing you to get the optimal balance between battery life and required brightness. And did I mention that it looks good?
Images:
1. Standard size comparison. Top light is similar in size to a 2AA MiniMag. Middle is the AT-100, bottom is a standard 30cm ruler.
2. Close up of the AT-100's business end. (the scratch there is the only scar of an estimated 6 months of regular usage, and doesn't affect beam quality at all).
1. >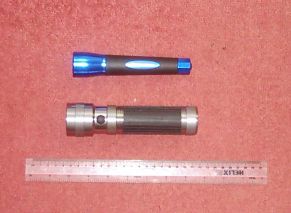 2. >
The AT-100 comes in Nuwai's normal clear plastic box, with the silver black and blue graphics, looking just as high-tech as the light itself. The light, a lanyard, set of batteries and a nylon carrying pouch are all included. Image 3 below shows the packing (excuse the low quality, I will be updating that image soon...couldn't actually lay my hands on the packing when I was writing this review, so had to reuse an old pic).
N.B. Nuwai products can occasionally be found being distributed under a different name. Ring Automotive Products for example distribute a lot of Nuwai products in Britain, (three of which I have), and most likely other companies in other countries. If you know of any others, please feel free to let me know, so that I can add them here for others reference.
3. >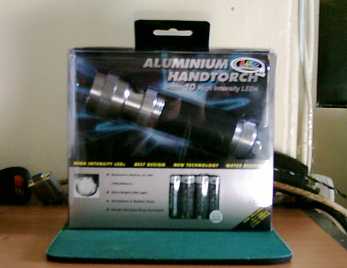 Full Size Packing pics:
NOT YET AVAILABLE.
---
Feeding the beast:
The AT-100 runs from four AA size alkaline batteries, which are included in the packing. Changing or installing the batteries is a simple enough procedure.
1. Take a firm hold of the knurled portion of the body just below the switch with your left hand (reverse that if you're left handed), and take a firm hold of the tailcap with yout other hand. Don't try to hold the bezel as it can unscrew, or the rubber portion of the body as it can be prone to move.
2. Turn the tailcap anticlockwise (looking down on it from that end of the light), to unscrew it. Watch it, there is a spring in there, so if you're not careful, it can jump out of your hands and go rolling across the floor.
3. Pull out the black battery holder carriage. This is one of Nuwai's favourite bits of engineering it seems as this is the second light I've seen a similar thing in (also seen in the PL-383).
4. Dump out the dead batteries, and dispose of them as you see fit.
5. Place four new AA cells in the carriage, the negative terminals are, as with most flashlights, shaped as springs, so the changing proceedure can be done in total darkness by touch alone if required. (just don't lose the tailcap if you do that!)
6. Slide the battery carriage back into the body of the light (the end with the terminals on toward the head) - NOTE, it is designed so that it will only fit in the correct way around, so if it don't fit, simply rotate it 180 degrees, and try again. Don't force it.
7. Screw the tailcap back on. Job done.
Runtime:
Low Mode (3 LED's): 80 hours. (claimed).
High Mode (10 LED's): 25 hours. (Claimed).
I've had this light for a long while now, and it's used for short bursts on a very regular basis, and I'm still on the original batteries, so I see no reason to disbelieve their quotes there. I have not yet tried running this on rechargables of any kind. But to be totally honest, I reckon that they'd self-discharge before they went flat in general use.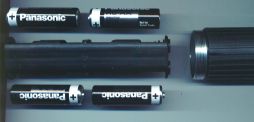 ---
Using the Light:
This is one of those lights that's nice and simple to use. Everything is controlled by a single rubber covered push button on the barell. It has a tactile "click" action that can be heard, and clearly felt even if wearing gloves.
Pressing the switch once and releasing lights the three LED's in the middle of the reflector, if you press the switch partially in again, you can flash the light for signalling, or getting someone's attention etc.
Pressing and releasing the switch again will light the three LED's again, along with the remaining seven around the edge of the reflector. Once in this mode, partially depressing the switch can again be used for signalling.
As with all of the Nuwai products I've so far encountered, the switch has thus far performed in an exemplary manner, with no problems arising from sticking in any mode or flickering or anything. This is quite important as the switching mechenism can often prove to be the bugbear of a lot of lights, even those costing many times as much as this. The switch is also logically placed, and your thumb rests almost perfectly on it when holding the light as shown below.
The only real niggle I can see with this system is that there's no way to go from low to off, without going through high. I've got used to this to the extent of not even really noticing now, but some people may find it a little annoying.
This light cannot be focussed, so there is no need to go over that procedure here.
---
Beamshots:
(All From 1m and 5m unless otherwise stated. Camera has permenant auto-exposure level control, shots therefore do not show intensities properly, so should not be taken as an indication of brightness unless a comparison is made to a known source.)
1. Low Mode - 3 LED's. (1m)
2. Low Mode - 3 LED's. (5m)
3. High Mode - 10 LED's (1m)
4. High Mode - 10 LED's (5m)
5. Showing an interesting side-effect of the smooth reflector in Low mode. This odd "Cloverleaf" pattern is normally well off to the edges of the beam, and doesn't cause any trouble, but I thought it would be worth including here, as it's a pattern I haven't seen elsewhere.
1.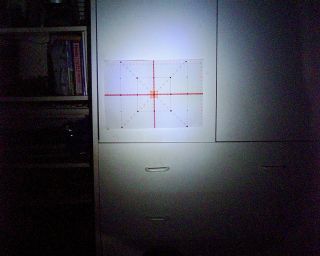 (If you look closely, you will see three slightly separate hotspots in a triangular configuration)
2.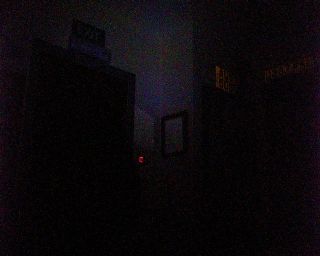 (Actually looks a bit brighter to the eye than this image shows)
3.
(Beam is far smoother and artefact free in this mode)
4.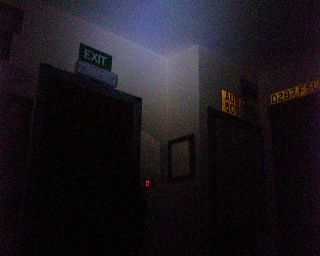 (As you can see, at a distance, the High mode is considerably brighter)
5.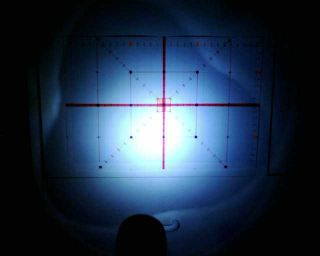 (Beam is not actually off-centre or as blue as this shows, this was purely to catch that funky cloverleaf shaped corona)
As with most lights using 5mm LED's without additional optics, the AT-100 isn't going to shoot a razor-sharp beam 2 miles onto that mountain over there...but it wasn't designed to do that either. The beam is what I would describe as a "soft spot" which as the name suggests, puts it somewhere between a spot and a flood. The Low mode is ideal for walking around indoors at night, as the beam is broad and bright enough to avoid "tunnel vision" as some LED flashlights have been known to. The High version is best suited to actually working on something (I use it quite often when poking around in the loft or working on the car/computer), or for walking around outside at night. It's bright enough to get the attention of anyone who's sceptical about these "new fangled LED flashlights" and make them see what they're missing. You also don't want to look down the barrel and press the button, as you probably won't see so well for a while afterwards if you do! (and yes, in that respect I am speaking from experience).
Beam colour is also good. Colour balance is a good representation in the pictures above (except 5 as indicated).
---
Durability Department:
The AT-100 looks sturdy, even before you've opened the box. Once you've taken it out, you become more sure of that. Despite being from a relatively unknown company (when I got this light, Nuwai have since then become more widely known - which is a good thing), this is a well made light.
This is one of those lights that even if you've not switched it on, *looks* really smart, the satin like texture of the aluminium (created by thousands of almost microscopic ridges milled into the body - which make almost a musical tone if you run a fingenail over them), the very aggressive but amasingly burr-free knurling, and black on silver colour scheme all making a good impression. The only things letting it down here are the lens, which seems rather cheap compared to the other components, and the rubber grip, which has a tendency to get twisted. This doesn't alter operation at all, but because of the logitudinal ridges in the grip, looks a bit scruffy if it's twisted. The lanyard (something that Nuwai could do with addressing!) is also, as with most of their lights it has to be said, is pathetic. It's just about adequate for a 2AA light, but would snap the moment that you dropped this out of your hand and had the lanyard attatched to your wrist.
These niggles aside, the AT-100 should be able to take a lickin' and keep on tickin'. The light itself is constructed entirely of aluminium, and is as far as I can see, no less than 1mm thick at any point. The lens, which was mentioned earlier as seeming a bit cheap, could thanks to the material used, be a little vulnerable to scratches, but is deeply enough recessed into the end of the bezel (3mm) to hopefully keep it out of harms way. Certanly if the light's dropped face down, it should protect it, unless it's onto gravel or something pointy like that. If it's stuffed in the pocket of a set of overalls, it can also be vunerable to attack by keys, which is how the small scratch in my lens happened.
Strangely enough, given that it is not adonised in any manner (can you get clear adonise???), the finish seems to be remarkably durable, my AT-100 looks just like the day I bought it, no scratches or nicks anywhere, and thanks to that satin like texture, I tend to think that scratches would be rather visible.
As for drop testing, this will obviously fare better than its incandescent brethern. The light was dropped from waist height to a carpeted wooden floor (okay, it rolled off the desk!), and landed with a loud BANG on the floor, totally oblivious. Was then thrown from the same height as though it had slipped from my hand while running. Hit the floor with an even louder bang, proceeded to spin round and blind me, and sit there shining away totally oblivious to the abuse. Then my mother started banging on the bedroom wall with something, so I had to abandon this test...which the AT-100 obviously passed with flying colours anyway.
The packing claims that the AT-100 is water resistant. Of course, this had to be tested. Weather proof it most certainly is. So don't worry about taking it out in a rainstorm. However, after an extended period of immersion (~30 minutes), there was a slight amount of leakage around the switch rubber, but not around any of the sealing O-rings on the tailcap or bezel. So maybe it's best to keep this one out of the garden pool. If it does get soaked inside though (rinse thourghly with fresh water if it was salt water), take the bezel off, and the battery tray out, and leave everything in a warm, dry place to dry out, and it'll be good as new when put back together.
Overall, the AT-100 will take pretty much whatever you throw at it within reason, at worst you would maybe put a ding in the bezel or tailcap, I've done neither yet, but managed to scratch the lens...good marks here. Very good marks.
---
Product details:
Product type: 10 LED Aluminium flashlight.
Power Source: 4 AA size Alkaline Batteries.
Battery runtime (Where applicable): 80/25 hours claimed depending on mode.
Bulb type: 10x 5mm White LED's (Assumed to be Nichia parts).
Reflector (Where applicable): Circular, 35mm diameter, mirrored (see photo above).
Bezel: screw fit with O-ring, clear lens retaining reflector.
Current consumption: Not Yet Measured.
Weather resistant: Weatherproof and light water resistance.
Submersible: Nope.
Accessories: Lanyard, Batteries, Nylon carry case.
Weight: 160g unloaded/240g Loaded.
Warranty: None Stated.
---
Manufacturer: Nuwai.
Model: AT-100.
Price: £24.99 (~ $35 US).
Ratings:
Durability: 10
Brightness: 8
Usabilty: 10
Battery Life: 10
Battery Availability: 10
OVERALL: 48/50 - BUY IT!
Very well designed and put together product. A Worthy addition to any collection, as well as an excellent light for everyday use. Should last long enough to pass down through the family too!
---
Updates Will be posted here as they happen.
Test Unit Bought from Maplin Electronics on 12.05.2003 and above photographs taken that evening. Review will be started ASAP, but I'm in the middle of exams just now!
18th Aug 2003. Review completed and uploaded in full. Any updates of note will be added here in due course.
January 2021: Page retired and moved to site archive...This was the very first review I wrote I believe!
28th April 2023: Revised Statcounter code to allow for HTTPS operation.
---