Manufacturer:
PowerPlus Enterprises UK (importer)
Model:
9W Energy Saving Bulb
Application:
General Lighting
Wattage:
9W (Confirmed)
Diameter (max):
50mm
Length:
85mm
Tube Length:
280mm approx (8mm diameter), 4-U style
Bulb/Tube material:
Glass. Colour 827 phosphor coating on inner surface
Colour Temperature:
2700K CRI: Ra 82
Peak output wavelength:
Total light output:
400Lm (44.4Lm/W) - Manufacturers claim.
Rated lifetime:
Not stated
Cap:
B22
Operating voltage:
230-240V AC 50-60Hz
Operating current:
70mA (pf = 0.50)
Warmup/restrike time:
1 minute/none (Instant Start type ballast)
Cost (original):
£1.99 at a discount store in Aberdeen City Market by the name of "Nikel 'n' Dime" (May 2006).
Value (now):
Unknown
Place of manufacture:
Note stated - assumed to be an Asian import
Date of manufacture:
Unknown (Date code G5 on lamp - Philips dating system would make that July 2005, which sounds plausible, so it may be the same, or similar dating system used by this company)
Lamp Status:
Working
Notes:

This otherwise unremarkable lamp deserves a mention purely for its truly diminutive size if nothing else. Cheap CFL's with dimensions equal to their equivalent incandescent rivals are unusual. Generally I have found that such compact products fall far, far short of their claims in terms of output, only those from the big manufacturers such as Philips and GE managing to live up to their claims. This one however does seem to have pulled it off, not only does it succeed in producing more light than your garden variety 40W incandescent...but it's actually *smaller* than a normal PS60 incandescent lamp!

How this has been achieved is quite clever, in that the designers of this lamp have managed to cram a 4-U style T-8 tube into a base just 50mm in diameter. This is actually smaller than many spiral designs of the same wattage I have seen. The use of 4 rather than the usual 2 or 3 sections of tube allows the overall length to be reduced considerably. Also of note, is that the ballast compartment actually protrudes above the base, some components actually mounted in the area between the tubes. While good for creating a compact lamp, this may not bode well for the longevity of the lamp, as components in that area will inevitably operate at higher temperatures than present elsewhere. A compromise however that the designers obviously saw fit to make however. For lamps to be created so small, measures like this generally have to be made in this country, as the ballast always takes up a certain amount of space - in Japan, more compact lamps can be created due to the mains electricity supply being rated to 100V - making it possible to design very small ballasts. In this case though, if the lamp managed to last for even 5000 hours, that is still 5 times as long as the incandescent lamp it is indented to replace would have lasted - and during those 5000 hours, it will have saved a considerable amount of energy, as with many cheaper lamps, it is the energy saving that is being sold, not the lifetime. Hence the fact that the lifetime of this lamp is not indicated anywhere on the lamp body or the packaging. Certainly one of the more interesting cheap lamps I've found over time anyway.

Click Thumbnails for full size images.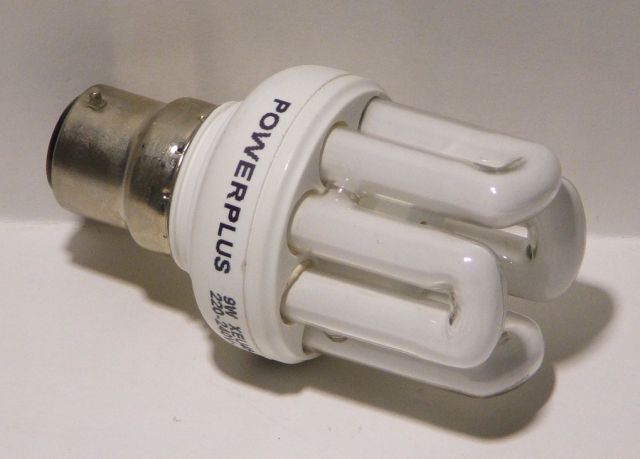 This lamp added to the Virtual Display Shelf on the 6th May 2006 at 02:03.
---
References: Lamp packaging only.
---
Acknowledgements: None.
---
Further information: Many thanks to a visitor who contacted me by E-mail to inform me that the 11W version of this lamp are available at a store by the name of "The Original Factory Shop" for £2.50. Afraid I don't actually know what area this was in, but if you have a store near you of that name, worth a look!
WARNING about this lamp - It has been brought to my attention by another website reader that the tube on this length is particularly fragile - especially of note in the case of this lamp as there's so little actual body to get hold of. This can lead to a very undesirable situation when inserting/removing the lamp from overhead fixtures should the tube break, whereby you end up with a handful of crushed glass - moral of the story - be careful!
---
Updates:
26th January 2021: Minor page formatting changes to improve readability on mobile devices.
28th April 2023: Revised Statcounter code to allow for HTTPS operation.
---