General Electric FLE20HLX/T3/827/B22-6Y-GE Compact Fluorescent Lamp.
---
| | |
| --- | --- |
| Manufacturer: | General Electric Lighting |
| Model: | Elegance FLE20HLX/T3/827/B22-6Y-GE |
| Application: | General Lighting |
| Wattage: | 20W (18W Measured) |
| Diameter (max): | 60mm |
| Length: | 120mm |
| Tube Length: | 440mm approx (Helical Style) |
| Bulb/Tube material: | Glass, colour 827 triphosphor coating on inner wall |
| Colour Temperature: | 2700K |
| Peak output wavelength: | N/A |
| Total light output: | 1152Lm (Manufacturers claim - 57.6Lm/W) |
| Rated lifetime: | 6000 Hours |
| Cap: | B22 |
| Operating voltage: | 220-240V AC |
| Operating current: | 120mA (pf=0.58) |
| Warmup/restrike time: | 1 minute/none (Rapid start ballast) |
| Cost (original): | £3.69 (August 2006) from Tesco |
| Value (now): | -- |
| Place of manufacture: | China |
| Date of manufacture: | Unknown, code 060430 present on lamp - 30th April 2006 seems too logical though! |
| Lamp Status: | Working |
Helical (or spiral) CFL's are rather a nightmare to make, and as a result are generally slightly less efficient than their linear counterparts. The reason for the difficulties in making them is down to the intricate shape that the tube has to be moulded into - a lot of bending of glass has to take place. This isn't a problem for the glass, but it is a problem when you've got to apply a delicate phosphor coating to the inner surface of the tube. There are two obvious options open to the manufacturer here: a) coat the tube when it is still linear; or b) coat the tube once it's been coiled into the helical shape you see here. Both of these options come with pluses and minuses. A) is a cheap solution, and does the job. However, the phosphor may detach from the wall of the tube to some extent where it has been "stretched" on the outer side of the curve, leading to a deficiency of phosphor in this area. This leads to both a reduction in light output, and potentially a colour shift too in extreme cases. B) on the other hand ensures that there's a sufficient amount of phosphor in all areas of the tube. However, due to the action of gravity during the manufacturing process, there will tend to be an excess of phosphor on the "bottom" of the tube. While nowhere near as damaging to the light output (especially in terms of the light quality), this does create a darker band where the excess of phosphor blocks some light output. Despite this inherent drawback, helical lamps remain popular due to their ability to fit into conventional light fittings due to the shorter overall length than Lynx, PL or other linear style lamps.
This is a typical modern helical lamp aimed at the mass market. Aimed in this case, straight at the 100W incandescent lamp's position as the most common one in general lighting of a room. Managing to produce just over the critical 1000Lm of this lamp, while still managing to fit inside all but the smallest of shades (which of course, you shouldn't be sticking 100W incandescent lamps in anyway unless they're rated to take the heat!). The only real drawbacks here being the usual - that this lamp is incompatible with dimmer switches, and that it costs considerably more than a cheap incandescent lamp - in this case by an order of magnitude!
The light from this lamp is of a very good quality, and warm up seems to be dead on a minute from normal temperatures (though the first time the lamp was used, it took about 15 minutes for the mercury vapour to fully diffuse throughout the lamp and full brightness to be achieved). This is also one of the most flicker free lamps I have encountered (even on our somewhat...variable...mains supply). Though the ballast does run somewhat warmer than I would like, but not so much as to worry me.
I wish more manufacturers would use model numbers like this though - there's nothing in there it doesn't tell me. FL - Fluorescent. E - Electronic ballast. 20 - 20W. HLX - Helical style. T3 - tube diameter. 827 - Phosphor colour. B22 - cap type. 6Y - six year (1000 hours being a year or "normal use") lifetime. GE - manufacturer.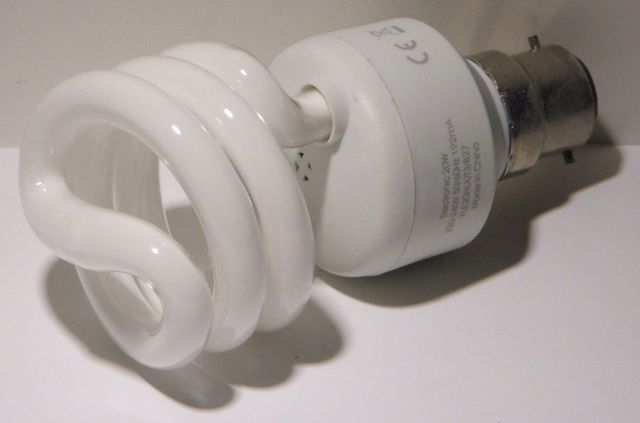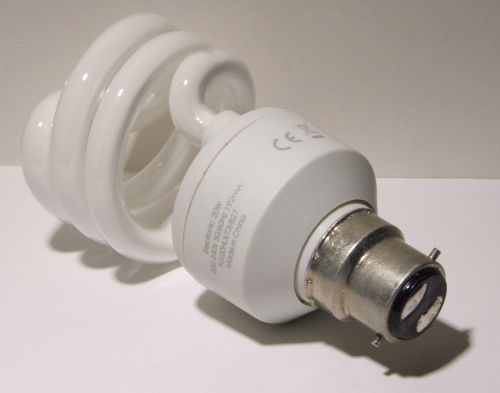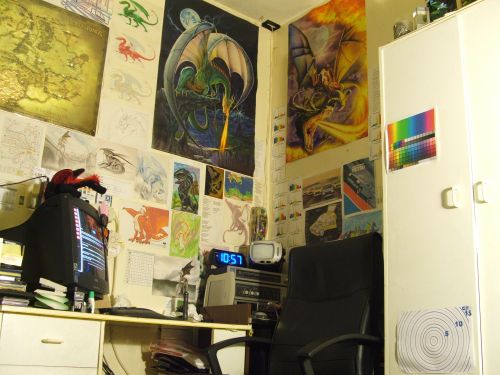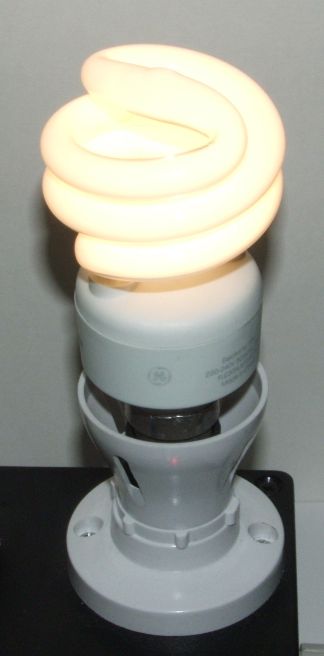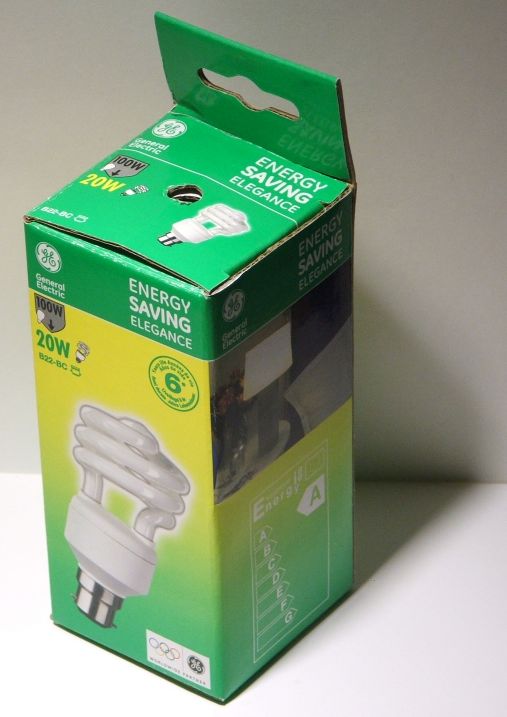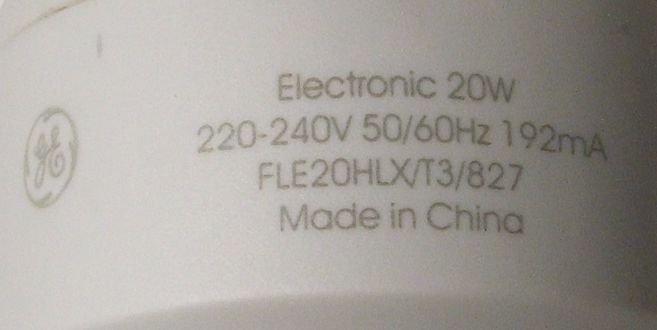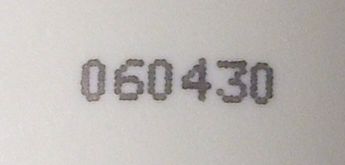 ---
This lamp added to the Virtual Display Shelf on the 8th September 2006 at 23:33.
---
References: Lamp markings and packaging only.
---
Acknowledgements: None.
---
This page last updated on 13th June 2023: Changes to page formatting to improve page readability on mobile devices and some background code tweaks to improve performance on search engines.
---