Marathon Electronic 11W/827 GLS Shaped Compact Fluorescent Lamp.
---
| | |
| --- | --- |
| Manufacturer: | Marathon (website unknown) |
| Model: | Electronic 11W/827 |
| Application: | General Lighting |
| Wattage: | 11W (12W measured) |
| Diameter (max): | 70mm (PS70 lamp shape) |
| Length: | 140mm |
| Tube Length: | 240mm approx (2-U style) |
| Bulb/Tube material: | Outer - plastic, internal opal coating. Inner - glass, colour 827 phosphor coating on inner surface |
| Colour Temperature: | 2700K CRI: Ra 82 |
| Peak output wavelength: | Broadband |
| Total light output: | Unknown |
| Rated lifetime: | Unknown |
| Cap: | E27 |
| Operating voltage: | 220-240V AC 50-60Hz |
| Operating current: | 100mA (pf = 0.51) |
| Warmup/restrike time: | 1 minute/none (Instant start ballast) |
| Cost (original): | Unknown. Obtained free second hand in 2001. |
| Value (now): | Unknown |
| Place of manufacture: | United Kingdom |
| Date of manufacture: | Unknown, codes 26201 and 99032 present on lamp body |
| Lamp Status: | Cosmetically damaged but working |
One of the older pieces from my collection, and one that's been through the wars a bit, before I even got it! The most obvious thing here, is the outer bulb being clear - it was originally internally powder coated to appear opaque. This coating was removed by myself to allow me to demonstrate how modern CFL's which were shaped like traditional GLS lamps were made as part of a school project on the evolution of electric lighting. The bulb was actually cracked when I got the lamp second hand - all new light fittings were being fitted in a local hotel, and this was no longer required - I discovered it where it had been dropped next to a bin outside, stuffed the poor thing in my pocket, and took it home.
Despite all this, and an unknown period of usage before these events took place, it still works perfectly, a little blackening of the tube ends visible though, indicating that it has some wear on it. This one spends most of its time carefully wrapped up in padding though, as the crack's got quite significantly bigger of the last three years, and this is one lamp I would hate to break or lose, it has quite a number of memories attached.
If anyone knows what the production date of this lamp is, or has any further information, or a similar lamp in decent condition you would like to see in a good home, please feel free to get in touch.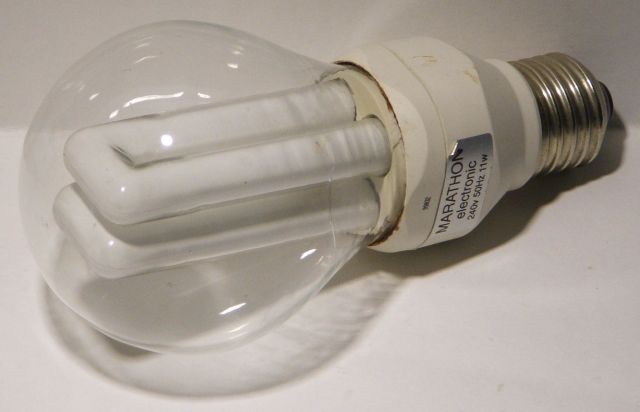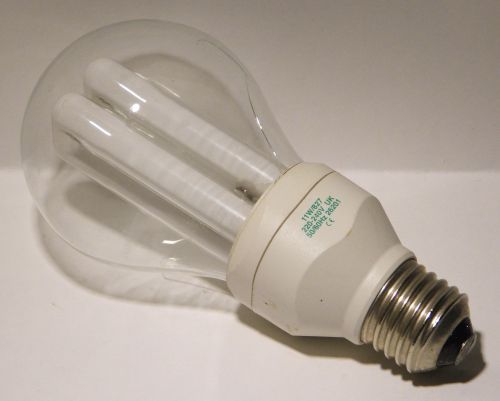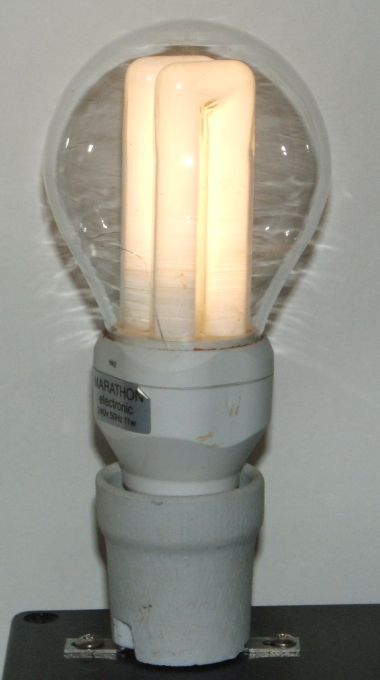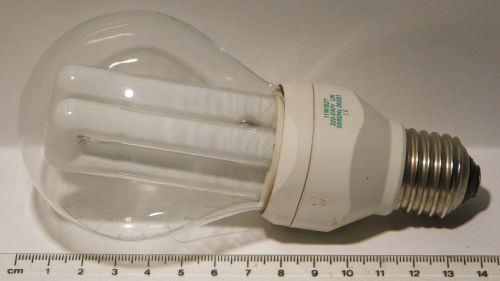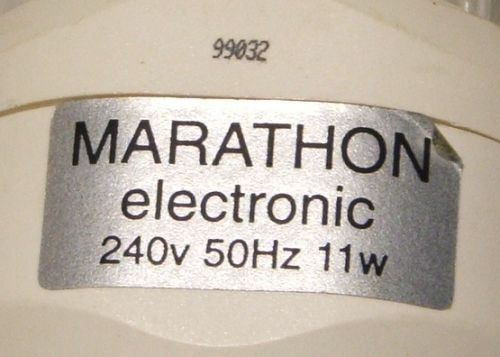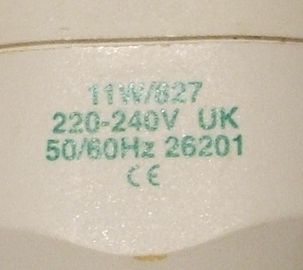 ---
This lamp added to the Virtual Display Shelf on the 11th June 2006 at 00:55.
---
References: Lamp markings only.
---
Acknowledgements: None.
---
This page last updated on 13th June 2023: Changes to page formatting to improve readability on mobile devices and made some page code changes to improve search engine performance.
---