Megaman GSU11s DorS Self-Dimming Compact Fluorescent Lamp.
---
| | |
| --- | --- |
| Manufacturer: | Megaman |
| Model: | GSU11s DorS Dimming |
| Application: | General Lighting |
| Wattage: | 11W, 8W, 6W, 4W (13W, 10W, 7W, 7W measured) |
| Diameter (max): | 60mm |
| Length: | 115mm |
| Tube Length: | 240mm approx (3-U Style) |
| Bulb/Tube material: | Glass, colour 827 triphosphor coating on inner wall, outer rubber coated glass, coarse frosted finish |
| Colour Temperature: | 2700K |
| Peak output wavelength: | N/A |
| Total light output: | 570Lm (On high setting) (Manufacturers claim - 51.82Lm/W) |
| Rated lifetime: | 10'000 Hours |
| Cap: | B22 |
| Operating voltage: | 220-240V AC |
| Operating current: | 80mA, 65mA, 50mA, 50mA (pf=0.63, 0.58, 0.63, 0.57) |
| Warmup/restrike time: | 1 minute/none (Rapid start ballast) |
| Cost (original): | Unknown |
| Value (now): | -- |
| Place of manufacture: | Unknown, not stated on packaging |
| Date of manufacture: | Unknown, code 06W26, which could mean week 26 of 2006. This sounds about right |
| Lamp Status: | Working |
Dimmable compact fluorescents have been around for a couple of years now, Osram having been particularly quick off the mark with their Vario lamp. It seems that other manufacturers have caught on to the idea now, this being a variation on the same idea, but with a much more "polished" feel to it than the aforementioned Osram product. For a start, it's a heck of a lot smaller! In fact, this is slightly shorter than your garden variety PS60 incandescent, and exactly the same diameter. Admittedly, you would expect this to be shorter than the Vario lamp I am comparing this to, as it's only a 11W lamp, whereas the Vario's a 23W example.
Overall though, the dimming performance is just so much better than the Vario - not only does this offer four levels of illumination (the Vario has two), but this warms up quicker, and most importantly, doesn't flicker when dimmed. There MAY be a very slight flicker on the lowest level - but it's very, very slight...to the extent that I'm not sure if it's there, or of my eyes are just playing tricks on me.
Electrical performance is a bit of a puzzler though...not so much with the highest level, but the lowest...in particular that my (admittedly cheap) wattmeter shows no significant difference in power usage between the lowest two settings...there is a very visible difference in light output though. I have to assume from this data, that there is an appreciable amount of power used to heat the lamp electrodes when run at this level (more being required as the lamp is dimmed more), accounting for the "lost" electrical energy. Either that, or my wattmeter is just lying to me.
This lamp definitely lends itself to applications such as use as a nightlight in childrens bedrooms, or providing low level illumination in corridors at night. Another interesting application suggested by the reader who donated me this lamp, is as a power failure indicator. If the lamp is left switched on at its lowest power setting, should the power supply be interrupted then restored, the lamp will re-light on the high setting. Therefore if you come back to your workshop and find the lamp on high, you know the power's been off at some point while you were away.
The finish of the outer bulb is quite interesting. While in appearance it may appear just to be a coarse frosted finish, it's actually rubbery to the touch. Apparently, the rubber part of that is simply a shrink-fit over the glass bulb, and if punctured by something sharp, will tend to gradually disintegrate, eventually resulting in a clear outer bulb.
The whole feel of the lamp seems to be that of a quality item, from the light output itself, to the rubbery finish on the globe, to the packing - to the extent that it comes with stickers to put on the light switch to tell you how to use it!
On that note, things are quite simple. You switch the lamp on as normal, and each subsequent time it's switched off and on again (with less than a three second delay), will make the lamp switch down a level. Unlike the Vario, this lamp will start happily on even the lowest level - but this is not recommended, and it takes forever to warm up like that. Unusually for a CFL, this lamp is suitable for use with conventional dimmer switches (but not the fancy digital or touch operated ones), where you simply rapidly turn the control down and up again to activate the "mode change" function. There's even a sticker included in the box to put on the switch explaining how to use it.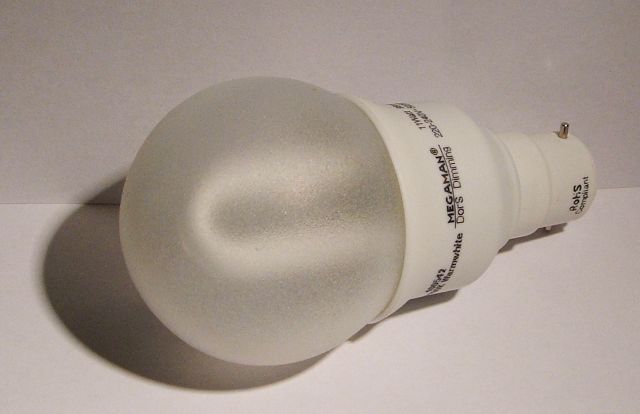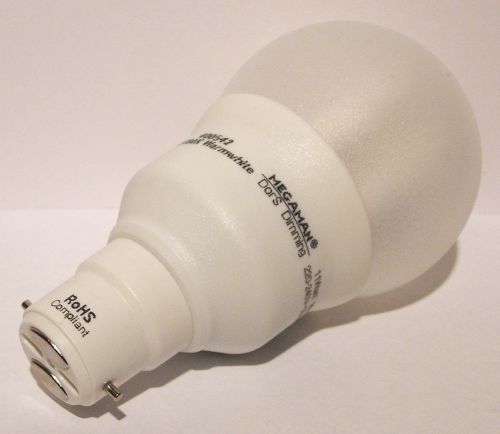 Highest Brightness Setting (4/4).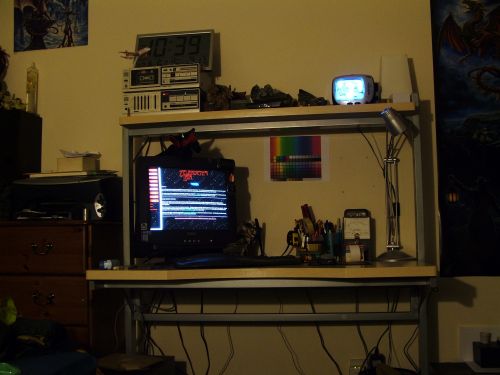 3/4 Brightness setting.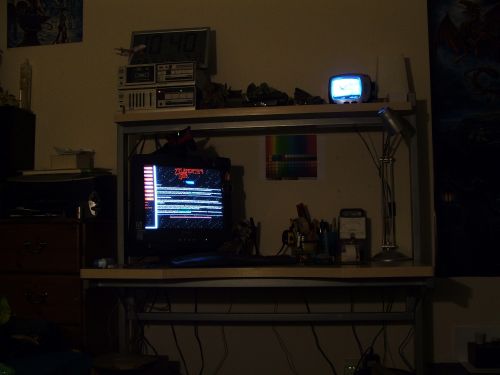 2/4 Brightness Setting.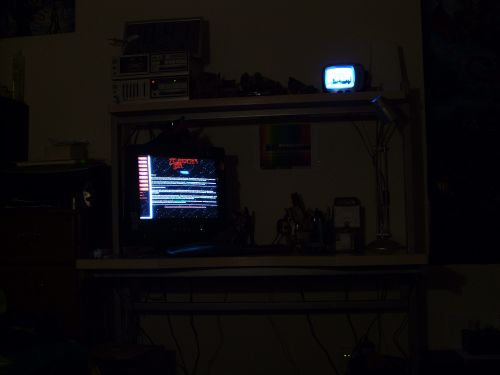 Lowest (1/4) Brightness Setting.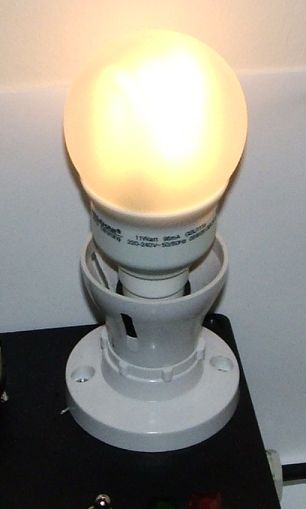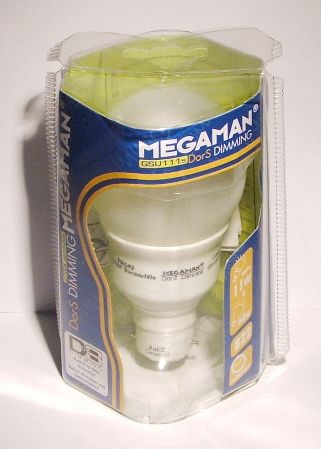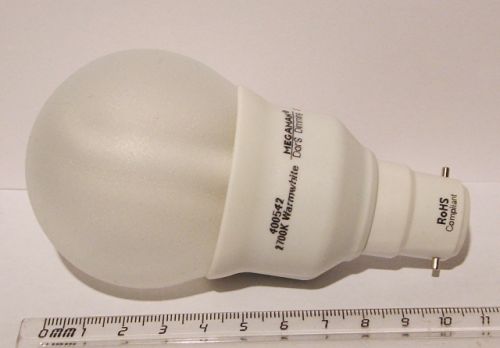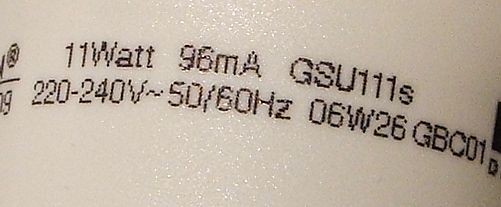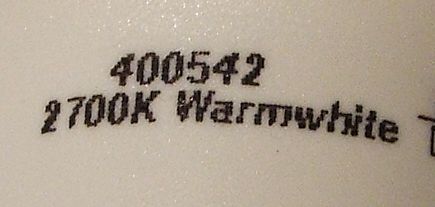 ---
This lamp added to the Virtual Display Shelf on the 10th December 2006 at 23:15.
---
References: Lamp markings and packaging only.
---
Acknowledgements: Many thanks to the reader of this website who donated this lamp for display!
---
This page last updated on 15th June 2023: Changes to page format to improve readability on mobile devices and some background page code changes to improve search engine performance.
---