Mercury 15W 2700K Compact Fluorescent Lamp
---
| | |
| --- | --- |
| Manufacturer: | Mercury Lighting |
| Model: | - |
| Application: | General use |
| Wattage: | 15W |
| Diameter (max): | 60mm (from memory) |
| Length: | 120mm (from memory) |
| Tube Length: | 370mm |
| Bulb/Tube material: | glass, internally phosphor coated |
| Colour Temperature: | 2700°K |
| Peak output wavelength: | N/A - broadband emission |
| Total light output: | 900Lm (estimate) |
| Rated lifetime: | 10'000 Hours |
| Cap: | B22 |
| Operating voltage: | 230V |
| Power Factor: | 0.61 |
| Operating current: | 65mA |
| Warmup/restrike time: | 3 minutes/instant |
| Cost (original): | £3.99 |
| Value (now): | -- |
| Place of manufacture: | Unknown |
| Date of manufacture: | Late 2001. |
Another one that's not in maybe as new condition, has seen about a year of service in an up-lighter in this room, which is why it's a bit on the grubby side, and there's a little blackening of the tube at the cathodes, nothing serious though, and it seems to be holding up just fine - could maybe just have done with a bit of a clean before I started snapping photos of it!

Warm-up time's a little slower than average maybe, about 90 seconds to 75% I'd guess, though without a photometer I can't really test that. Once up to temperature though, colour balance is good, there's no flicker, and the ballast is silent (As are 99% of them these days anyhow), and the ballast doesn't get too hot.

Starting seems to be reliable, with a slight flicker occasionally visible if the tube is at extremely low temperatures (< 0 degrees C), and obviously, taking a good deal longer to warm up from that temperature.

Unfortunately, this lamp got broken when it had roughly 6'000 hours on it. (My fault, trying to do three things at once, and I dropped it). Was still working perfectly.

Shame that, as I'd have liked to see how long it lasted! The ballast however has since been scavenged and put into service in a 15W linear fluorescent fixture in place of a magnetic ballast which could barely keep even a brand new tube alight, seems to work just fine.
Note: These photos were taken on a very cheap circa 2003 digital camera hence are of poor quality and resolution. As I no longer have this lamp I'm afraid I won't be able to improve on these...Sorry.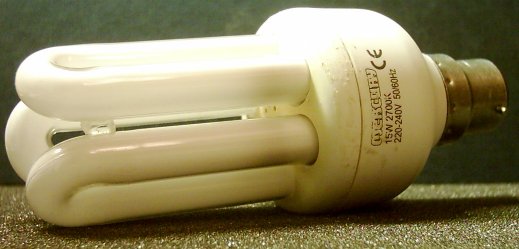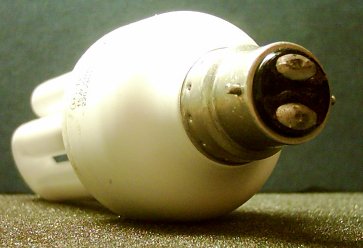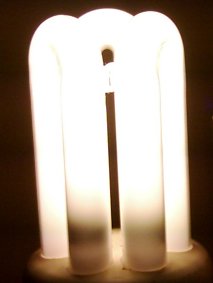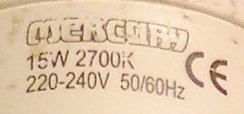 ---
This page last updated on 15th June 2023: Changed page formatting to improve readability on mobile devices and made some background code changes to improve search engine performance.
---