Manufacturer:
Osram
Model:
Dulux EL
Application:
General use, infill lighting, nightlights
Wattage:
5W
Diameter (max):
30mm
Length:
120mm
Tube Length:
130mm
Bulb/Tube material:
Glass, Triphosphor coating on inner surface
Colour Temperature:
2700K (Colour 827)
Peak output wavelength:
N/A - Broadband Emission
Total light output:
200Lm (Manufacturers Claim. 40Lm/W)
Rated lifetime:
10'000 Hours
Cap:
E14
Operating voltage:
220-230V ~ 50-60Hz - Also suitable for DC operation.
Operating current:
To Be Measured
Warmup/restrike time:
2 Minutes/Instantaneous
Cost (original):
Unknown
Value (now):
Unknown
Place of manufacture:
Not Stated
Date of manufacture:
Unknown
Notes:
By anyone's standards, this is a small CF lamp. Pretty much as small as they get to be honest. Osram's smallest CFL is the 3W version of this lamp. There are two main applications intended for this tiny little lamp.

Primarily, it's intended as a direct replacement for traditional "candle" style incandescents, providing low level atmospheric lighting. The diminutive size, low colour temperature and E14 cap make it an ideal candidate for this use. The fact that it produces a (relatively) insignificant amount of heat and has a rated lifetime of 10K hours also help there.

The other application is in security/emergency lighting. The low power consumption of this lamp and long lifetime mean that it is an ideal candidate for low level round the clock illumination and for emergency lighting. According to the information in Osram's Dulux Lamp Catalog, the current version of this lamp (and it's 7W version as well) are capable also of running on a DC power supply - a real bonus for backup purposes.

As somewhat of a sidenote, the tube used in this lamp is also seen in the Osram Dulux Mini - a small battery powered lantern, which can be found on my Flashlight Reviews Page.

Click Thumbnails for full size images.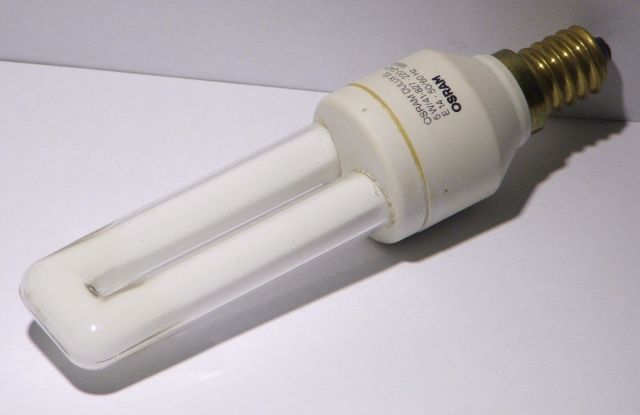 ---
Lamp added to the Virtual Display Shelf...at some point in 2005.
---
Acknowledgements: Many thanks to the website reader who donated this lamp for display.
---
References: PDF Lamp catalog and Datasheets from Osram's Website.
---
Page change log:
23rd November 2008: Sorted out some dodgy page formatting and removed links to old server.
28th April 2023: Revised Statcounter code to allow for HTTPS operation.
---