Manufacturer:
Osram
Model:
Dulux EL Longlife
Application:
General lighting
Wattage:
20W
Diameter (max):
47mm
Length:
145mm
Tube Length:
420mm
Bulb/Tube material:
Glass, inner phosphor coating
Colour Temperature:
3000°K
Peak output wavelength:
N/A - Broadband emmision.
Total light output:
1'500Lm
Rated lifetime:
15'000 Hours
Cap:
B22
Operating voltage:
230V
Operating current:
180mA (pf = 0.49)
Warmup/restrike time:
1 minute/instant
Cost (original):
£5.99
Value (now):
£3.99
Place of manufacture:
Germany
Date of manufacture:
Late 2004
Notes:
These lamps have become something of a staple in the CFL trade I think - they're decent lamps, priced a fair way above many of the Far Eastern imports, they do seem to be rather better made though. While I would have still said the 15K hour lifetime estimate was being a bit optomistic - I ran a lamp on a 24/7 basis (might even have been the one on this page...can't remember!) and aside for a few power cuts, it ran for just under 22 thousand hours (Yes...well over two years!). Judging from the discolouration of one of the tube ends, the eventual failure mode was emitter depletion of one of the electrodes. While a stable operating enviromnent like that is the best thing for a fluorescent lamp, so this figure is probably higher than you'd see in real life - it does demonstrate that these are pretty long lived lamps. Three other lesser lamps had been installed and failed in the test area in the time this one was up there - as such it came really as rather a surprise when it eventually died!

As with many CFLs of this design, the main complaints with it are that it doesn't fit into a good number of conventional light shades, and that it does take a bit of time to warm up, especially if it's really cold. It will still strike quite happily down to -20 degreed centigrade - just expect a dim, purple light for the first few minutes until it warms up.

Will be interesting to see what's the equivalent to this particular very normal lamp in a few years time as technology moves on.
Click Thumbnails for full size images.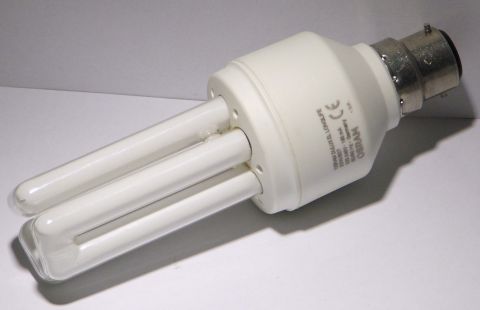 ---
Page change log:
28th April 2023: Revised Statcounter code to allow for HTTPS operation.
---