Manufacturer:

Osram

Model:
Dulux EL Reflector 15W/41-827 80 Degree E27
Application:
General Lighting - Directional
Wattage:
15W
Diameter (max):
122mm
Length:
155mm
Tube Length:
360mm (approx)
Bulb/Tube material:
Glass, warm white phosphor coating on inner wall - Diffuse finished reflector
Colour Temperature:
2700K.
Peak output wavelength:
N/A
Peak Beam Intensity:
335cd (Manufacturers claim).
Rated lifetime:
10000 Hours
Cap:
E27
Operating voltage:
240V AC 50-60Hz
Operating current:
270mA
Warmup/restrike time:
1 minutes/none
Cost (original):
Unknown
Value (now):
Compatible lamps available for £10.88 from BLT Direct (Correct at time of writing - Aug 2010)
Place of manufacture:
Germany
Date of manufacture:
Unknown - Date code r528 stamped on lamp base.
Lamp Status:
Working, new.
Notes:
Osram's Dulux EL range are without doubt one of the best known work horses of the CFL world. While nothing groundbreaking, they're reliable good performing lamps. The conventional form factor meaning that they seem to be losing a bit of ground domestic market these days (purely based on my observation of how readily available they are locally!) as spiral designs are becoming more popular as they don't fit into many traditional lamp shades. The long (and consistent) lives mean that they're likely to remain a staple of businesses for quite a long time I imagine - the fact that they've been around for ages will help there too.

PAR36 lamps have been around for a long number of years, and still have quite a following for floodlighting purposes. These lamps however are very expensive, even when bought in bulk - so any physically compatible lamp which lasts some 10 times as long is obviously very attractive! In response to this, Osram seem to have done something very simple but very effective - sticking a big stippled reflector to their existing 15W and 20W Dulux EL CFL's. This results in a lamp which gives a nice even flood of light, while producing far less heat than the equivilant PAR lamp, and with a far longer rated lifetime.

There are a couple of ways in which this falls short of the PAR36 lamps its intended to replace however. Not least in that it isn't suitable for dimming - many PAR36 lamps in places like hotels and restaurants are coupled with dimmers - so these lamps can't be used as a direct replacement there. Also, PAR36 lamps are by virtue of their original intended outdoor application, weatherproof, so with the appropriate type of lamp holder can be used outside, hence quite a number of older security light systems using them. This lamp would require a fully enclosed fixture if it was to be used outdoors.

Very typical Osram product - in that it does what it's designed to in a very direct, efficient way. No time or resources are wasted in looking fancy or incorporating features that nobody will ever need.
Click thumbnails for full size images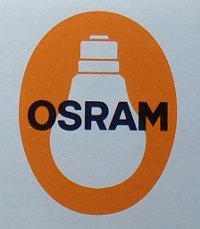 ---
This lamp added to the Virtual Display Shelf on the 15th August 2010 at 21:26.
---
References: Lamp packaging and markings only.
---
Acknowledgements: Many thanks to the website reader who donated this lamp and many others for display!
---
Updates:
25th January 2021: Minor page formatting changes to improve usability on mobile devices.
28th April 2023: Revised Statcounter code to allow for HTTPS operation.
---