Manufacturer:
Philips
Model:
92123E Hg 0.9A
Application:
Spectral Analysis
Wattage:
Unknown
Diameter (max):
30mm (T-30)
Length:
170mm
Tube Length:
90mm (15mm diameter)
Bulb/Tube material:
Glass
Colour Temperature:
Unknown
Peak output wavelength:
Unknown
Total light output:
Unknown
Rated lifetime:
Unknown
Cap:
E27
Operating voltage:
Unknown
Operating current:
Unknown (0.9A?)
Warmup/restrike time:
None/None
Cost (original):
Unknown
Value (now):
Unknown
Place of manufacture:
Holland
Date of manufacture:
November 1993
Notes:
This is a type of lamp specially designed for use in a laboratory setting to allow the spectral properties of the mercury vapour discharge to be studied.
Click Thumbnails for full size images.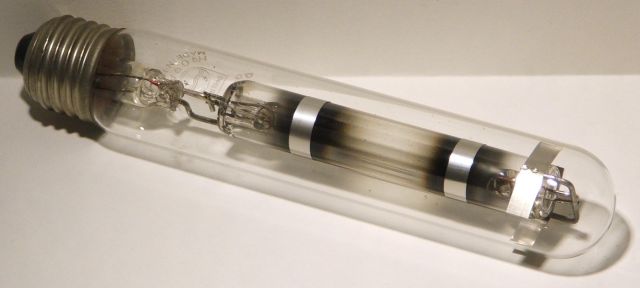 This lamp added to the Virtual Display Shelf on the 18th November 2005 at 02:01.
---
Updates:
23rd January 2009: Sorted dodgy page formatting and links to old site.
26th January 2021: Minor changes to page formatting to improve readability on mobile devices.
28th April 2023: Revised Statcounter code to allow for HTTPS operation.
---