Manufacturer:
Thorn Lighting
Model:
Atlas 100 Coiled Coil Crown Silvered - Blue
Application:
Decorative or Display Lighting
Wattage:
100W (96W Measured)
Diameter (max):
60mm (PS60 lamp shape)
Length:
115mm
Tube Length:
N/A
Bulb/Tube material:
Clear glass, Blue coating
Colour Temperature:
Blue
Peak output wavelength:
Unknown
Total light output:
Unknown
Rated lifetime:
Unknown
Cap:
E27 - Brass
Operating voltage:
240-250V
Operating current:
0.4A Measured
Warmup/restrike time:
None
Cost (original):
Unknown
Value (now):
Unknown
Place of manufacture:
England
Date of manufacture:
Unknown
Lamp Status:
Working
Notes:

This is certainly a bit of an oddball. Coloured lamps aren't that unusual. Crown silvered lamps aren't that unusual. However coloured AND crown silvered lamps are definitely unusual. This is the first one that I've ever encountered.

Unfortunately this is a powder coated lamp rather than one made of blue glass. Coated lamps like this tend to end up shedding their coloured coating if you so much look at them wrong, and sure enough, a couple of bits did part company with the lamp when I cleaned it up for photographing, despite my being extremely careful. This tends to be a particular problem with higher wattage lamps such as this, as the intense heat only works to further bake the coating, making it even more brittle.

Made by the unfortunately now defunct lighting division of Thorn, it's one I'm glad to have in the collection though due it being such an oddball.

I must deduce that this lamp was aimed more at the commercial market than the retail market, not least due to one bit on the cardboard sleeve which reads "THE ATLAS LAMP - for all Shops Offices & Factories" this makes me wonder, along with the fact that the stamp with the rating on the lamp actually stating that it uses a coiled coil filament, if this may be a long-life lamp as well. Hard to judge from the light output (long life lamps are usually somewhat dimmer for a given rating than their standard equivalent) due to the fact that the blue coating attenuates so much of the output, as you would expect.

My apologies for the somewhat overexposed photographs below - I didn't realise that I had the camera set up wrong until after I'd taken them - after which I had already put the lamp back into storage - I may retake them once I dig it out again in future.

Click Thumbnails for full size images.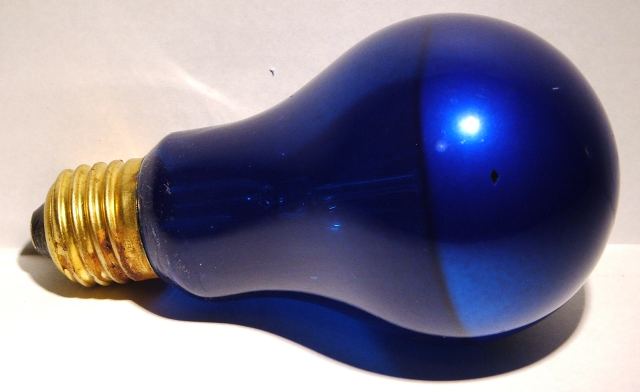 ---
This lamp added to the Virtual Display Shelf on the 18th September 2007 at 21:13.
---
References: None.
---
Acknowledgements: Many thanks to the website reader who donated this lamp (amongst many, many others) for display.
---
Updates:
26th January 2021: Minor changes to page formatting to improve readability on mobile devices.
28th April 2023: Revised Statcounter code to allow for HTTPS operation.
---