General Electric 15W Red Pygmy Lamp
---
| | |
| --- | --- |
| Manufacturer: | General Electric. |
| Model: | Pygmy 15W Red. |
| Application: | Decorative or status indication |
| Wattage: | 15W (13W measured). |
| Diameter (max): | 30mm - S30 bulb shape. |
| Length: | 55mm. |
| Bulb/Tube material: | Glass, external deep red lacquer coating. |
| Colour Temperature: | Unknown. |
| Colour Rendering Index: | Unknown. |
| Peak output wavelength: | Unknown. |
| Total light output: | Not stated. |
| Rated lifetime: | 1000 Hours. |
| Cap: | B22. |
| Operating voltage: | 240V. |
| Operating current: | 70mA. |
| Warmup/restrike time: | None. |
| Cost (original): | £1.49 (March 2006). |
| Place of manufacture: | Hungary. |
| Date of manufacture: | Unknown - code K5 present on lamp. |
| Lamp Status: | Working |
The so called "Pygmy" lamps have been around for a long while, and are one of those common lamps which nobody ever really gives a second thought. They're handy little things, most often used for decorative purposes. Low wattage versions such as this also see use in refrigerators for lighting (our fridge uses a 15W clear Pygmy lamp), though there seems to be an increasing trend for purpose made lamps to be used for this purpose. Under-shelf lighting, and for lamps attached to equipment (sewing machines in particular) are probably the most common mainstream uses these lamps (in clear form) see these days.
Another purpose these lamps often see use in is as status indicators. The university I attended a couple of years ago used red and green pygmy lamps to indicate when the power was live in one of the workshops, and a couple of red ones outside the door to one of the darkrooms to show when it was in use. Their small size and easily availability in low wattages make them well suited to this sort of duty. In recent years though fluorescent lamps with marked covers seem to have become the preferred choice, mainly due to lower power consumption, and longer lamp life offered by that option. These again are starting to be poached by LED alternatives now. As a result, pygmy lamps are not seeming to be used much for status indication in newer installations, they can still be spotted in older places though, especially late 70s to mid 80s if you have an eye for such things. Is worth noting that this statement is based on experience in the UK only, I have no idea how common this style of lamp is outside this country. As it is, they're starting to become more of a rare sight here too.
This particular lamp has quite an unusual coloured finish, a far deeper red than I would generally expect, the result being an output that's a very pure red, rather than the slightly orange-ish colour generally seen by red coated incandescent lamps. Unfortunately, it's not the greatest of coatings, and does have a couple of nicks in it, where unfiltered light escapes. The other fundamental flaw is that it's an externally applied one, so over time, it will fade and/or chip no doubt. I far prefer lamps making use of coloured glass or internal coatings to those such as these. The offset of that of course, is that lamps like this are cheaper to produce.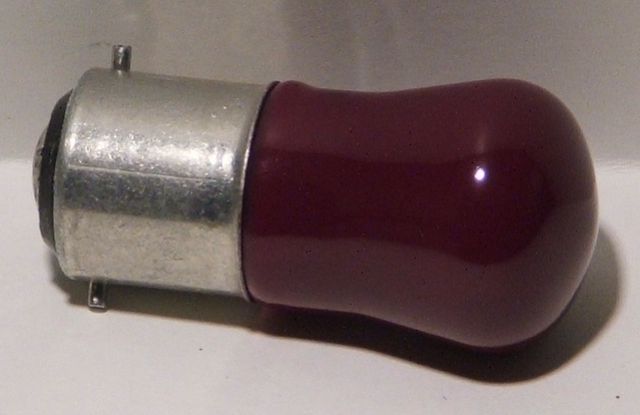 General Electric 15W Red Pygmy Lamp - General overview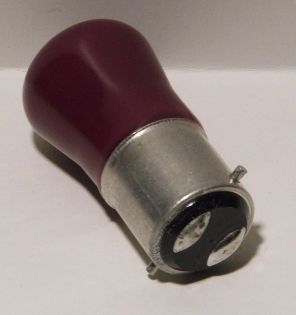 General Electric 15W Red Pygmy Lamp - Detail of lamp cap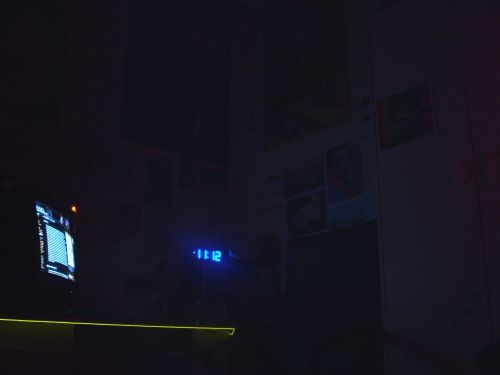 General Electric 15W Red Pygmy Lamp illuminating my workstation from approximately two metres...or at least trying to!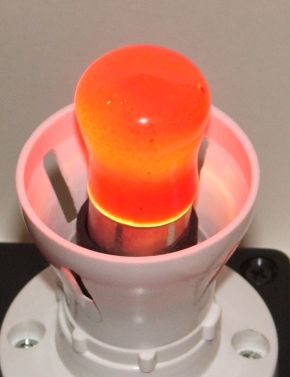 General Electric 15W Red Pygmy Lamp - Lamp shown while alight
General Electric 15W Red Pygmy Lamp - Showing lamp packaging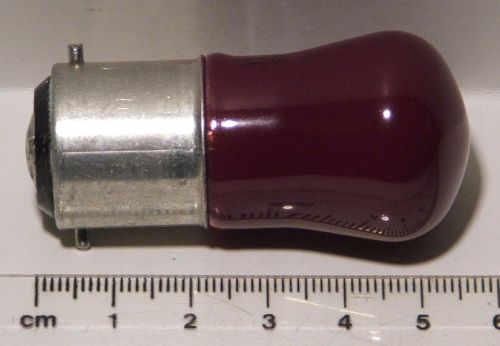 General Electric 15W Red Pygmy Lamp - Detail of lamp size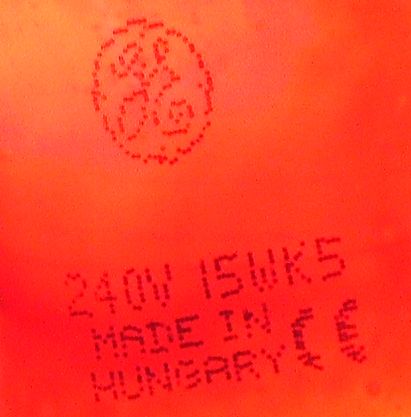 General Electric 15W Red Pygmy Lamp - Detail of text printed on lamp

---
This lamp added to the Virtual Display Shelf on the 25th March 2006 at 23:45.
---
References: Lamp packaging only.
---
Acknowledgements: None.
---
This page last updated:
17th June 2023: Changes to page format to improve readability on mobile devices and some background code changes to improve search engine behaviour.
---