Manufacturer:
Leuci
Model:
R80 60W Violet
Application:
Theatrical/Entertainment lighting
Wattage:
60W (66W Measured)
Diameter (max):
80mm
Length:
115mm
Tube Length:
N/A
Bulb/Tube material:
Glass. Rear internally aluminised. Front Violet laqured externally.
Colour Temperature:
Unknown
Peak output wavelength:
N/A Broadband emission
Total light output:
Unknown
Rated lifetime:
Not Stated
Cap:
E27
Operating voltage:
220-230V
Operating current:
270mA
Warmup/restrike time:
N/A
Cost (original):
£2.99 (Q3 2004)
Value (now):
--
Place of manufacture:
Italy
Date of manufacture:
Q4 2004
Lamp Status:
Working
Notes:

Not too much to be said about this one really. It's a very common coloured reflector lamp, as has been used in stage lighting and disco equipment for a number of years. This one's not the highest quality example I've seen. The lacquer on the front is quite thin, and is a little patchy around the edges. Is a nice shade of violet though - even if the beam is full of artefacts - they're really not visible when it's used as it was intended.

Click Thumbnails for full size images.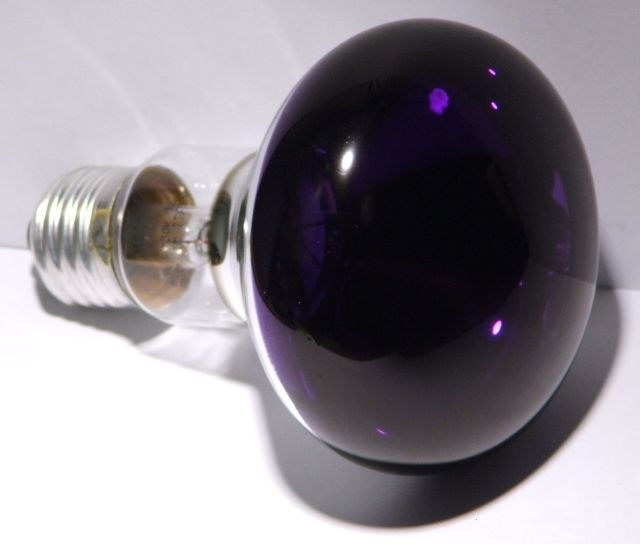 ---
This lamp added to the Virtual Display Shelf on the 20th September 2005 at 21:51
---
Updates:
26th January 2021: Minor changes to page formatting to improve readability on mobile devices.
28th April 2023: Revised Statcounter code to allow for HTTPS operation.
---