Manufacturer:
Osram
Model:
Relax 60W Warm White
Application:
General Lighting - Atmospheric
Wattage:
60W (59W Measured)
Diameter (max):
60mm (DC60 lamp shape)
Length:
100mm
Tube Length:
--
Bulb/Tube material:
Glass. Warm White Micro-particle inner coating.
Colour Temperature:
Warm White - precise temperature not stated
Peak output wavelength:
N/A - Broadband emission
Total light output:
580Lm (9.67Lm/W)
Rated lifetime:
Not stated
Cap:
B22
Operating voltage:
230V AC
Operating current:
250mA
Warmup/restrike time:
None
Cost (original):
£1.69 in Sainsbury's Supermaket (Milton Keynes Central Branch)
Value (now):
--
Place of manufacture:
France
Date of manufacture:
Unknown - Code h588 present on lamp crown.
Current Status:
Working
Related Pages:
Osram Active 60W
Notes:

It appears that Osram here is up to something a bit interesting here, selling "light" rather than lamps. The "Active" and "Relax" lamps are part of a range of colour temperature corrected lamps available in a variety of styles. The Relax lamp is a lamp with improved red/yellow output (actually - it's the blue output that's attenuated). This means that it's a very warm light, ideal for use in places like dining rooms or lounge areas where an relaxed mood is desirable. The Active lamp on the other hand has an attenuated red output, producing a more neutral white light, idea for working areas like utility rooms, garages, or for use in desk lights. I imagine though, due to the attenuation of the red on the Active lamp, that the efficacy will have taken rather a pounding, as relatively it will be filtering out rather a lot of light.

Basically speaking, this is simply a slightly more modern version of the old "Warm white" coloured lamps which you used to be able to find anywhere and everywhere. Only real difference here, is that Osram have come up with a new type of powder coating which appears to have a more tightly controlled grain structure, and a consequently higher transmission efficiency. I don't believe it's a huge difference, but as with any incandescent lighting, any efficiency gain is something to be grabbed by the scruff of the neck and put into use!

I cannot actually discern any logical reason for the use of the unusual lamp shape (The DC shape) which Osram chose to use for the Active and Relax lamps. The main one I can see is that it will make it stand out more on the shelves (worked on me!). It's nice to see a bit of variety.

Just the unusual shape makes this a nice one to have in the collection though.

Click Thumbnails for full size images.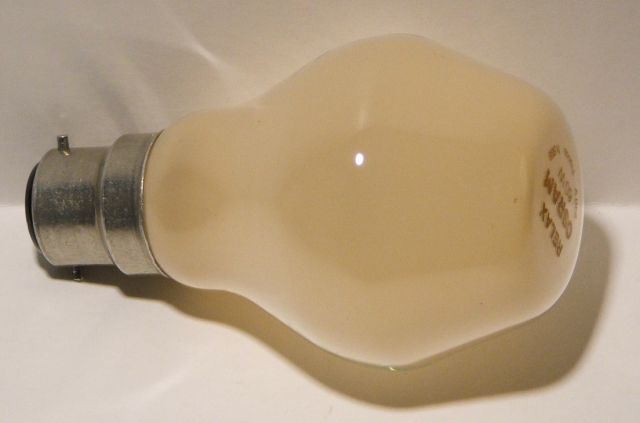 ---
Lamp added to the Virtual Display Shelf on Monday 16th January 2006 at 21:46.
---
References: Manufacturers Datasheet (Dead link removed).
---
Updates:
26th January 2021: Minor changes to page formatting to improve readability on mobile devices.
28th April 2023: Revised Statcounter code to allow for HTTPS operation.
---