Manufacturer:
Philips
Model:
Spotone R50 Spotline 30°
Application:
Display Lighting
Wattage:
40W
Diameter (max):
50mm
Length:
83mm
Tube Length:
N/A
Bulb/Tube material:
Glass. Rear: inner aluminium coating. Front: Light inner frosting
Colour Temperature:
Not Stated - Estimate 2700°K
Peak output wavelength:
N/A - Broadband Emission
Total light output:
Not Stated
Rated lifetime:
Not Stated
Cap:
E14
Operating voltage:
230V
Operating current:
To Be Measured
Warmup/restrike time:
N/A
Cost (original):
£2.50 (Q2 2005)
Value (now):
£2.19 (Q3 2010) (Compatible Lamps Available from BLT Direct)
Place of manufacture:
Holland
Date of manufacture:
October 2000. (Code: K0)
Lamp Status:
Working
Notes:

Incandescent reflector lamps aren't by any means unusual, appearing in a variety of sizes and variations on this sort of shape for a long number of years now.

Philips seemed to have started pushing this new, more compact lamp at about the same point that the smaller (PS50 I think) conventional bulbs started to appear. The most common size I of reflector lamp similar to this which tends to pop up in up-lighters, desk lamps and the like is the 64mm (R64) version of this lamp. This smaller version however has started to become more common a sight over the last few years and can easily be implemented in any role that the R64 was intended for - however in some cases where the lamp is actually visible and the fitting is designed around it, the increased gap at the edges can look a mess.

A very common sight through the 1980s and 1990s, these lamps are starting to fade into the background somewhat now though. New installations are tending to make heavier use of halogen incandescent or compact fluorescent technology. Especially given that the higher, 60 and 100W versions are now becoming hard to find. Even LED lighting is starting to poach what was once the prime territory of the R64 and R50 lamps.

Click Thumbnails for full size images.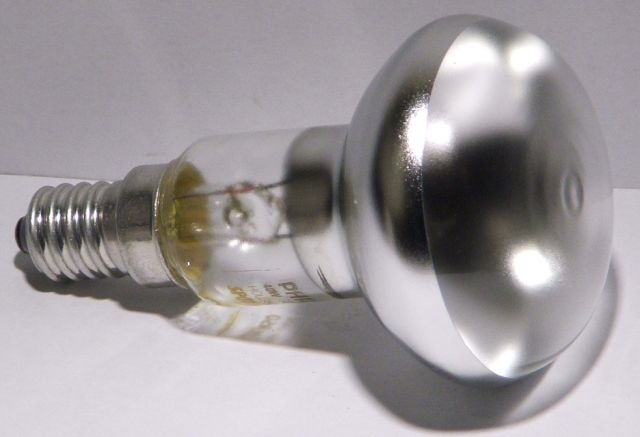 ---
This lamp added to the Virtual Display Shelf on September 21st 2005 at 23:21.
---
Updates:
9th August 2010: Minor correction to text.
26th January 2021: Minor changes to page formatting to improve readability on mobile devices.
28th April 2023: Revised Statcounter code to allow for HTTPS operation.
---