Manufacturer:
Osram
Model:
Powerstar HCI-T 70W/WDL
Application:
Industrial High CRI lighting
Wattage:
70W
Diameter (max):
Length:
Arc Tube Length:
Bulb/Tube material:
Inner: Quartz. Outer: UV-Stop Quartz
Colour Temperature:
3000K
Colour Rendering Index:
Peak output wavelength:
Broadband
Total light output:
Rated lifetime:
Cap:
Bi-pin
Operating voltage:
Operating current:
Warmup/restrike time:
Cost (original):
Unknown
Value (now):
Unknown
Place of manufacture:
Germany
Date of manufacture:
Not known, code .q828 shown on lamp cap
Lamp Status:
Working, new
Notes:
Text to follow.
Click Thumbnails for full size images.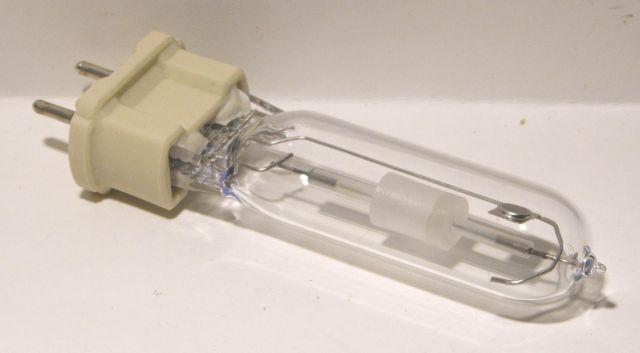 ---
Acknowledgements: Many thanks to the website reader who donated this lamp to the collection.
---
Updates:
26th January 2021: Minor changes to page formatting to improve readability on mobile devices.
28th April 2023: Revised Statcounter code to allow for HTTPS operation.
---