Philips SON-T 250W E40 High Pressure Sodium Lamp
---
| | |
| --- | --- |
| Manufacturer: | Philips |
| Model: | SON-T 250W E40 |
| Application: | Industrial floodlighting |
| Wattage: | 250W |
| Diameter (max): | 45mm (T-45) |
| Length: | 250mm |
| Tube Length: | 90mm 7mm diameter |
| Bulb/Tube material: | Polycrystalline Alumina |
| Colour Temperature: | 2000K |
| Peak output wavelength: | N/A - Broadband Emission |
| Total light output: | 25'000 Lm |
| Rated lifetime: | 24'000 Hours |
| Cap: | E40 |
| Operating voltage: | 100V |
| Operating current: | 3A |
| Warmup/restrike time: | 5 minutes/10-15 minutes |
| Cost (original): | Unknown |
| Value (at time of writing): | £9.10 in Q3 2009 from BLT Direct |
| Place of manufacture: | Belgium |
| Date of manufacture: | May 1992 |
| Current Status: | Working |
This is a lamp which was at the time of its manufacture, and still is to this day one of the main workhorses of the industrial lighting sector. This is not really surprising when you take into account that it is a very good "all round" lamp. Not really *excelling* in any field, but more importantly, not having any huge drawbacks either. It's very efficient, has a relatively long life, acceptable (by industrial standards) colour rendering ability, does not require hugely expensive or complex control gear (especially true of the variants of this lamp which feature an internal igniter - this one does not however, and requires an external igniter), and the lamps themselves are cheaply and readily available. BLT Direct for example have a lamp of identical specification to this one available.
I believe this was the first (and by no means the last) lamp to find its way into my collection through being rescued. I discovered it still fitted to an apparently nearly new Fitzgerald LB250SON low bay floodlighting fixture on a junk pile where a local warehouse was being torn down. I enquired, found that it was getting scrapped and that I was welcome to it, so I took it. At age twelve...and carried the whole darn thing home! Incidentally, it seemed an awful lot heavier back then than it does now. I should have known back then that this wasn't an interest that was going to disappear. I had a couple of light bulbs then, just because they were interesting things I thought...now I actually do not know how many there are! This is the 43rd one to be entered into the Virtual Display Shelf anyway, and there are a LOT to go yet!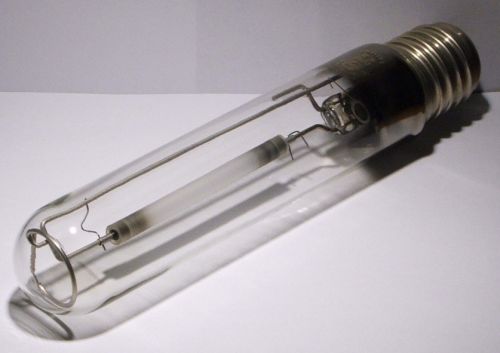 Philips SON-T 250W E40 High Pressure Sodium Lamp - General overview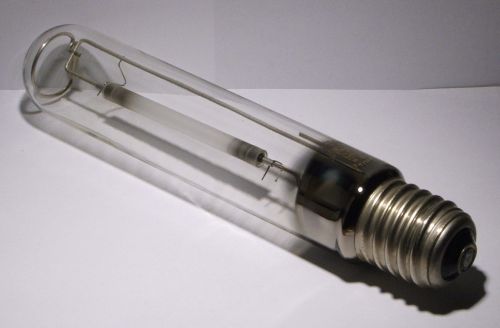 Philips SON-T 250W E40 High Pressure Sodium Lamp - Showing lamp cap

Philips SON-T 250W E40 High Pressure Sodium Lamp - Showing size of lamp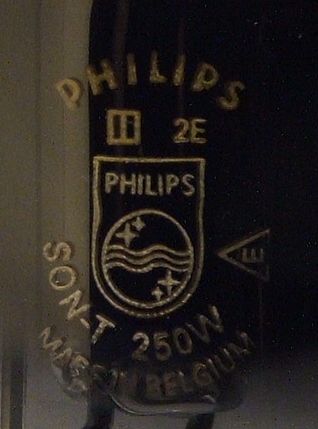 Philips SON-T 250W E40 High Pressure Sodium Lamp - Detail of text printed on lamp
---
This lamp added to the Virtual Display Shelf on the 9th November 2005 at 20:58.
---
This page last updated:
19th June 2023: Changes to page formatting to improve readability on mobile devices, also some background code changes to improve search engine behaviour.
---