Osram SOX/H 55W Low Pressure Sodium Lamp
---
| | |
| --- | --- |
| Manufacturer: | Osram |
| Model: | SOX/H 55W |
| Application: | Street lighting, Security Lighting |
| Wattage: | 55W |
| Diameter (max): | 50mm (T-50) |
| Length: | 420mm |
| Tube Length: | 60mm Approx 15mm diameter |
| Bulb/Tube material: | Inner, glass, sodium resistant inner coating. Outer, glass, indium oxide IR reflective inner coating. |
| Colour Temperature: | 1700K - CRI: Ra=0 |
| Peak output wavelength: | 589nM |
| Total light output: | Unknown |
| Rated lifetime: | 6000 hours |
| Cap: | B22 |
| Operating voltage: | Unknown |
| Operating current: | Unknown |
| Warmup/restrike time: | 10 minutes/none |
| Cost (original): | Unknown |
| Place of manufacture: | Unknown |
| Date of manufacture: | Unknown |
| Current Status: | Damaged but functional |
You may note that there are a lot of "unknowns" in there. The main reason for that is that the lamp you see here spent many years in a street light near here, which had long, long since lost its weatherproofing rubber seal - as a result half the lamp was immersed in water - the half which had originally the stamp on it. So, I have no model number, no date code, no nothing. Luckily I can tell from the tube structure that it's an Osram product.
You may also note that there's tape wrapped around the neck of this lamp. The reason that's there is quite simple, and that reason is that the outer envelope of this lamp is cracked. Quite how that happened I have no idea, I know it happened in the middle of the night, when the lamp was sitting on the desk in here. I woke up at about four in the morning hearing this "clinking" noise coming from the desk, I turned on the lights, went over, and got there just in time to see the whole outer envelope part company with the base about 10mm up from the clamp. I crudely taped the thing back together so as to minimise the chances of the inner tube becoming broken. I may clean it up and glue it back together some day for the sake of cosmetics, then retake the photographs.
Despite having no vacuum in the outer jacket, the lamp does still operate, and still manages about 75% of its full output, though it does never quite run up fully now on the standard gear.
This was one of three lamps which were my first low pressure sodium examples. Rescued from an almost certain trip to a skip after some SOX streetlights in a local village were replaced with fluorescent versions. The workman there donated me two fixtures and a random lamp (this one). Both fixtures contained 35W SOX lamps, one nearly new, one expired.

Osram SOX/H 55W Low Pressure Sodium Lamp - General overview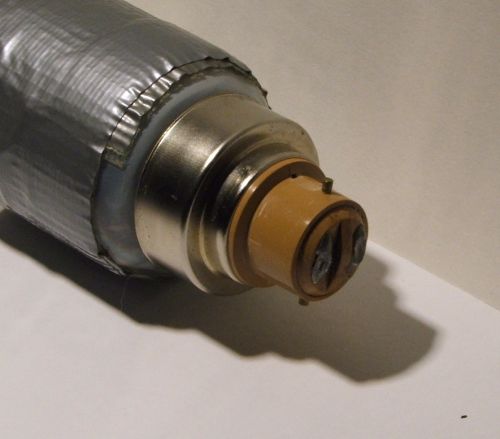 Osram SOX/H 55W Low Pressure Sodium Lamp - Detail of lamp cap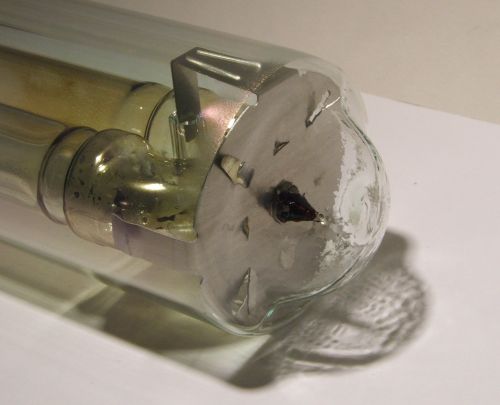 Osram SOX/H 55W Low Pressure Sodium Lamp - Detail of combined tube support and heat reflector

Osram SOX/H 55W Low Pressure Sodium Lamp - Showing size of lamp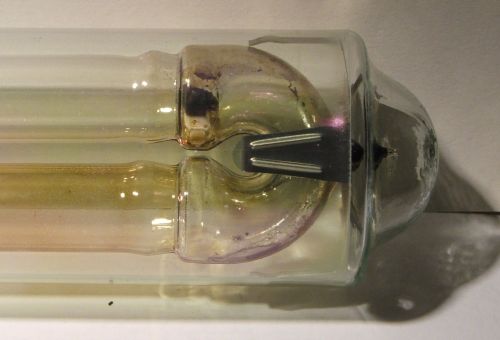 Osram SOX/H 55W Low Pressure Sodium Lamp - Detail of arc tube U-bend showing ridge designed to retain the sodium dose
---
This lamp added to the Virtual Display Shelf on the 13th of November 2005 at 01:20.
---
This page last updated:
19th June 2023: Changes to page formatting to improve readability on mobile devices, also some background code changes to improve search engine behaviour.
---