Manufacturer:
Philips
Model:
SOX-E 18W
Application:
Security Lighting
Wattage:
18W
Diameter (max):
50mm
Length:
200mm
Tube Length:
180mm
Bulb/Tube material:
Inner: Soda-Lime glass. Outer: Glass, indium tin oxide IR Reflective coating applied to inner surface.
Colour Temperature:
1700K
Peak output wavelength:
589nM
Total light output:
Unknown
Rated lifetime:
Unknown
Cap:
B22
Operating voltage:
Unknown (to be measured)
Operating current:
Unknown (to be measured)
Warmup/restrike time:
15 minutes/instantaneous
Cost (original):
Unknown
Value (now):
Unknown
Place of manufacture:
United Kingdom
Date of manufacture:
August 2005 (H5?)
Current Status:
Working
Notes:
The smallest of the widely used SOX lamps is this 18W rating (there was a 10W one, but they only really saw use in photographic dark room lamps and are very rare). This is a typical early 2000s example.
Availability:

Compatible lamps available from BLT Direct, cost £12.28 (at time of writing)

Click Thumbnails for full size images.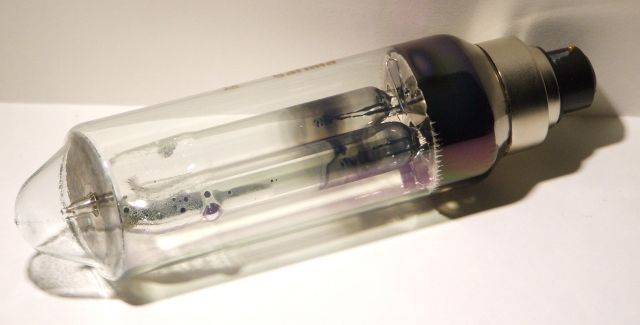 This lamp added to the Virtual Display Shelf on the 18th November 2005 at 01:23.
---
Updates:
26th January 2021: Minor changes to page formatting to improve readability on mobile devices.
28th April 2023: Revised Statcounter code to allow for HTTPS operation.
---