Osram SuperSOX 18W Low Pressure Sodium Lamp
---
| | |
| --- | --- |
| Manufacturer: | Osram GEC |
| Model: | SuperSOX 18W |
| Application: | Security Lighting |
| Wattage: | 18W |
| Diameter (max): | 50mm |
| Length: | 200mm |
| Tube Length: | 180mm approx 15mm diameter |
| Bulb/Tube material: | Outer: Glass, semiconductor thermal reflective (Indium Oxide) coating applied to inner wall. Inner: Glass, sodium resistant coating on inner wall |
| Colour Temperature: | 1700K - CRI: Ra=0 |
| Peak output wavelength: | 589nM |
| Total light output: | Unknown |
| Rated lifetime: | Unknown |
| Cap: | B22 |
| Operating voltage: | Unknown |
| Operating current: | Unknown |
| Warmup/restrike time: | 15 minutes/instant. |
| Cost (original): | Unknown |
| Value (at time of writing): | Compatible Lamps Available from BLT Direct - Cost £25.52 (Aug 2009) |
| Place of manufacture: | United Kingdom |
| Date of manufacture: | January 1988 |
| Current Status: | Working |
Ever since the invention of the low pressure sodium lamp in 1932 by Philips, there has been a call for these lamps to be available in lower and lower wattages, owing to their long service lives and until recently, totally unrivalled efficacies. The smallest low pressure sodium lamp to ever have been marketed was a 10W lamp from GEC. Thorn did produce prototypes of a 6W lamp, but it was never marketed. This 18W lamp is an example of the second lowest wattage of SOX lamp available, and this lamp was a hugely common sight throughout the 1980s and early 1990s until the rapidly evolving compact fluorescent and HID lamps started to prey on its position as the favourite for security lighting.
Osram-GEC also produced a range of luminaries to accompany this lamp for security lighting purposes, pictured below is the "GEC NightWatch NW18" fixture which my lamp came with. These were hugely popular units, and were a common sight in underground car parks, otherwise dark alleyways, and even a large number of houses thanks to the fact that they provided easily as much light as a 100W incandescent lamp, lasted about 15 times as long, and used very little power. I still see a number of these units dotted around, sadly though all but a few of them now have had the SOX control gear removed, and have been set up for use with compact fluorescent lamps. This is due to the fact that the few watts saved now is insufficient in a lot of peoples eyes to justify the higher purchase price of these lamps when they can get CFLs for £2-£3 apiece.
For me though, both the 18W SuperSOX lamp shown here, and the NightWatch fixture I got it with are firm favourites in my collection. They're things I remember from my childhood (my primary school had one of these outside the rear door. Outside the front door was another fixture I'd love any info you might have on. It was the shape and size of a large F8T5 fluorescent emergency light, brown plastic back box and white translucent cover like the NW18 here, and it contained two light sources. There was on the right, what I now know to be an 18W SOX lamp, horizontally mounted, and next to it on the left, there was an incandescent GLS lamp, I guess 60W. These were independently switched. I'd assume the incandescent there to allow instant light to be available while the SOX warmed up. If anyone has ANY info on one of these, especially where I might find one, PLEASE get in touch! I'd love to own one, both because hybrid fixtures like that are something I think deserve a place here, and for simple nostalgia value for me!).
With reference to the two photographs to the left side of the middle row below. These photographs show the electrodes of the lamp around five minutes into warm-up. If you were to look at them, there would be a bright point on them both, visibly flickering, but always present on both electrodes. These photographs however show that the "bright" electrode is in fact only one at a time - whichever is the anode for each side of the AC cycle. The first photograph shows the "top" electrode as the anode, and the second the "bottom" one.
The middle photograph on the top row shows the highly distinctive (and in my opinion rather beautiful) colour of the gas filling in this lamp at start-up. I'm assuming this being a later lamp is employing a Xenon gas fill - if someone could confirm this I would be most grateful.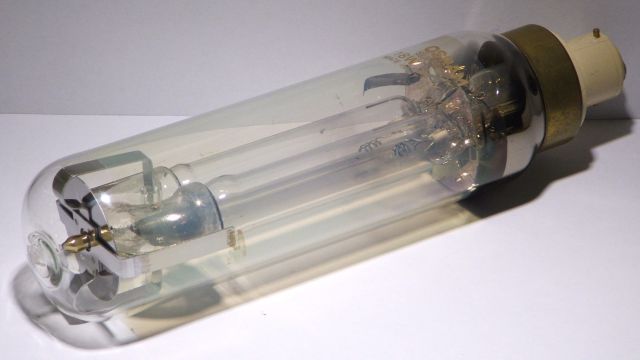 Osram SuperSOX 18W Low Pressure Sodium Lamp - General overview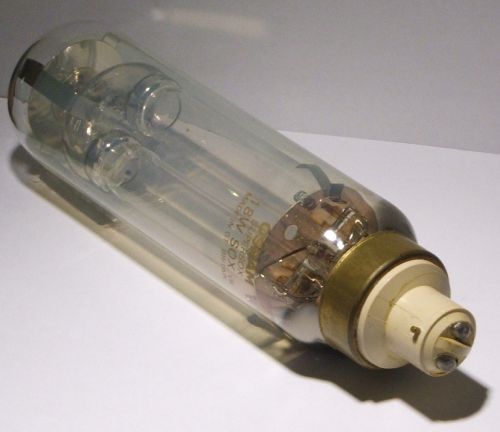 Osram SuperSOX 18W Low Pressure Sodium Lamp - Showing lamp cap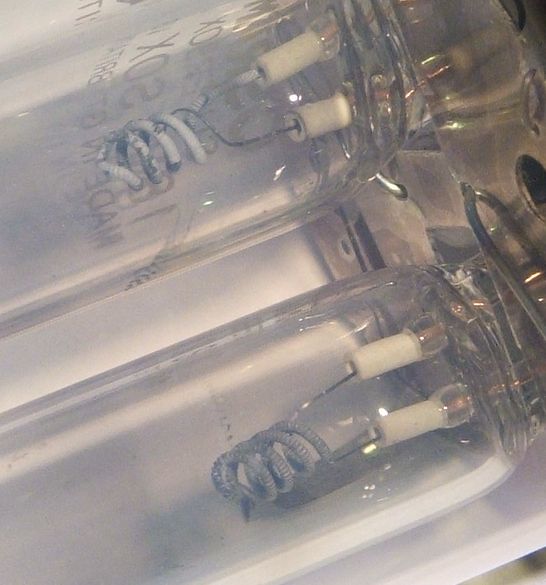 Osram SuperSOX 18W Low Pressure Sodium Lamp - Close-up of lamp cathodes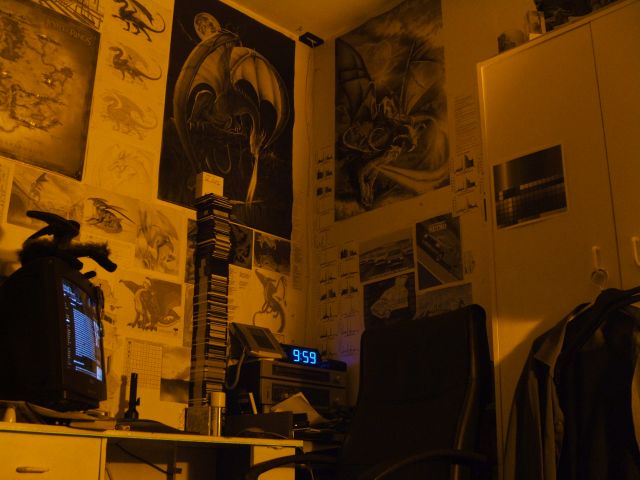 Osram SuperSOX 18W Low Pressure Sodium Lamp illuminating my workstation from a distance of approximately two metres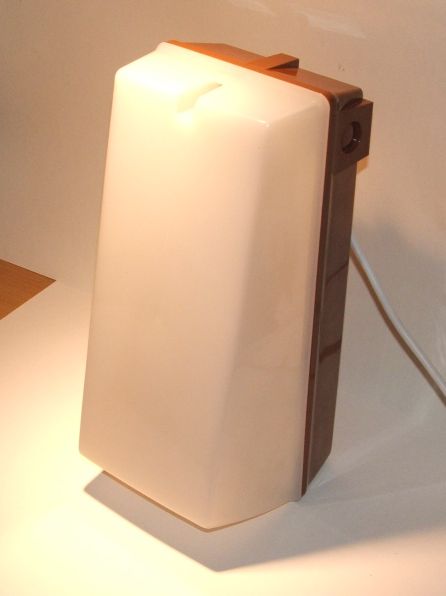 Osram SuperSOX 18W Low Pressure Sodium Lamp - Showing GEC NightWatch fixture that this lamp was supplied with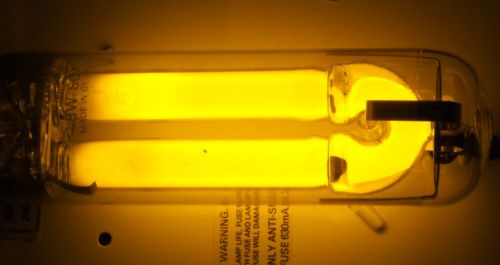 Osram SuperSOX 18W Low Pressure Sodium Lamp - Shown while alight and at full power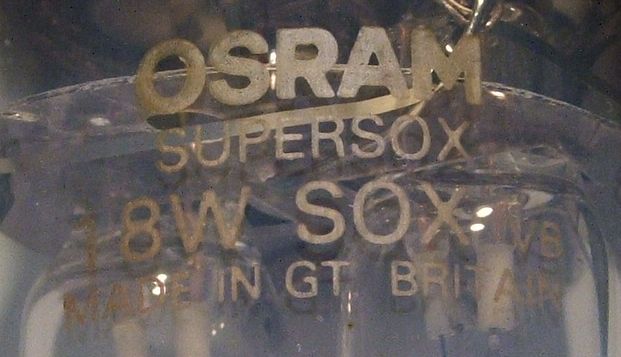 Osram SuperSOX 18W Low Pressure Sodium Lamp - Detail of text printed on lamp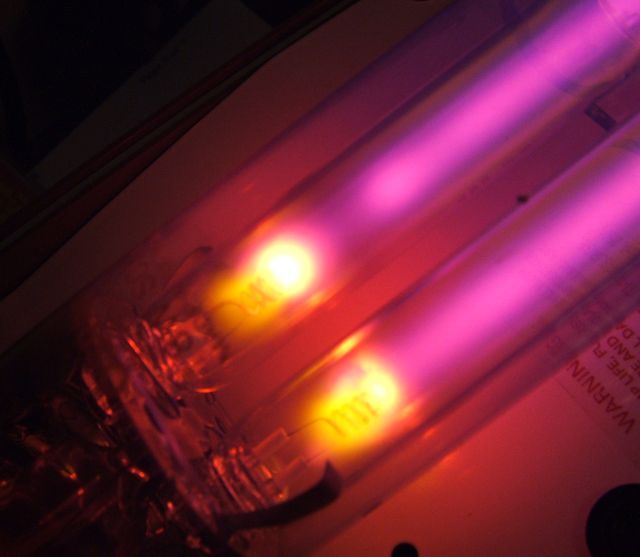 Osram SuperSOX 18W Low Pressure Sodium Lamp - Showing distinctive pinkish discharge at lamp start up before the sodium has started to vaporise.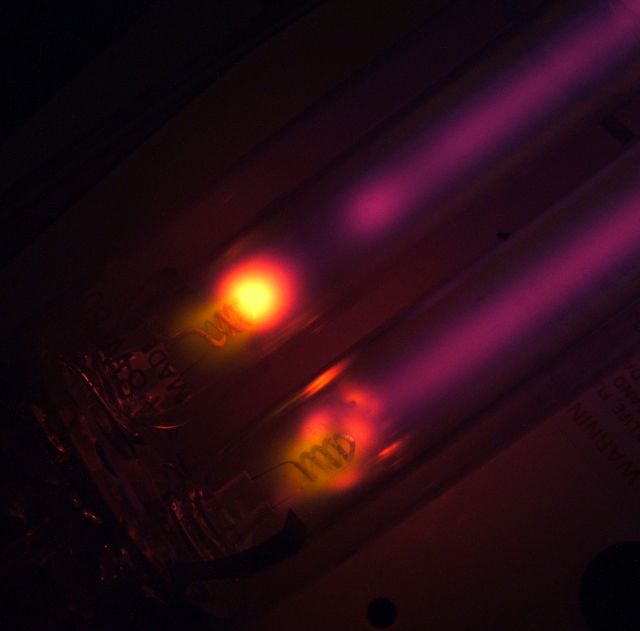 Osram SuperSOX 18W Low Pressure Sodium Lamp - This deliberately underexposed photograph taken during warmup of this lamp shows how only one cathode is ever active at a time - the bright spot on the upper one and dim area in front of it showing that it is currently the anode - this will flip each time the supply current switches. This isn't visible to the naked eye, only something you can capture on a camera.
---
This lamp and fixture added to the Virtual Display shelf on the 12th November 2005 at 22:55.
---
This page last updated:
19th June 2023: Changes to page formatting to improve readability on mobile devices and made some background code changes to improve search engine behaviour.
---