Iwasaki Eye NHT150SDX White SON High Pressure Sodium Lamp
---
| | |
| --- | --- |
| Manufacturer: | Iwasaki |
| Model: | Eye NHT150SDX |
| Application: | Specialist |
| Ballast type: | Electronic - Custom made by Iwasaki for SDX Range. |
| Wattage: | 150W |
| Diameter (max): | 40mm |
| Length: | 145mm |
| Electrode gap: | 40mm |
| Bulb/Tube material: | (Inner) Polycrystalline Alumina. (Outer) Glass |
| Colour Temperature: | 2500°K |
| Peak output wavelength: | N/A - Broadband Emission |
| Total light output: | 7800Lm (Initial) |
| Luminous Efficiency: | 50-60Lm/W |
| CRI: | Ra 89 |
| Rated lifetime: | 9'000 Hours |
| Cap: | E27 |
| Operating voltage: | 100V |
| Striking voltage: | Not Stated |
| Operating current: | 1.5A |
| Warmup/restrike time: | Not Stated |
| Cost (original): | Unknown |
| Value (now): | Unknown |
| Place of manufacture: | Saitama Plant, Tokyo - Japan |
| Date of manufacture: | Unknown - Estimate Q4 2004. |
The SDX Range from Iwasaki have for some time now been known as the highest quality sodium based light sources available; offering light virtually indistinguishable from halogen incandescent - yet with very considerably higher efficacies being achievable.
Taking a quick peak at the innards of the lamp here shows the phenomenal attention to detail which Iwasaki are renowned for. The mechanical construction of the lamp itself, right from the outer bulb to the spring braces on the lead frame, are all totally and completely flawless. It also shows how high a level the engineering is - with Iwasaki's unique Plasma Sealing technology used - whereby the tips of the niobium tubes which enter the PCA arc tube are melted over and sealed - you guessed it - using a plasma torch of some kind. Small ceramic heat insulating "cups" sit on each end of the arc tube, to help maintain the sodium amalgam at the correct temperature, and keep the sodium vapour pressure high.
A White SON lamp is essentially just a high pressure sodium lamp where the vapour pressure is increased still higher - causing the spectra to broaden. Which is what was the main method used by Iwasaki on the predecessor to this range of lamps. The SDX range were made still more efficient and the CRI was increased still further by the use of a dedicated range of electronic ballasts.
A further advantage of these lamps is that they emit very little UV, and are completely safe for use in open fixtures. The downside however, is that until quite recently, Iwasaki's ballast design was a closed standard - which meant that they were the only company you could buy one from - which needless to say, could push the overall system cost up considerably. Their patent expired recently however, so SDX ballasts are starting to become more widely available.
Iwasaki Eye NHT150SDX White SON Lamp - General overview
Iwasaki Eye NHT150SDX White SON Lamp - Showing lamp cap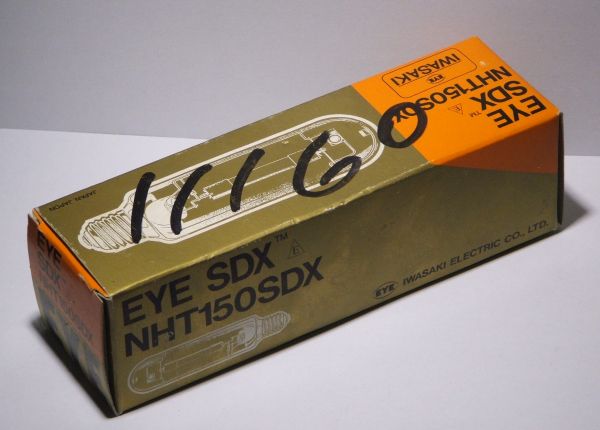 Iwasaki Eye NHT150SDX White SON Lamp Packaging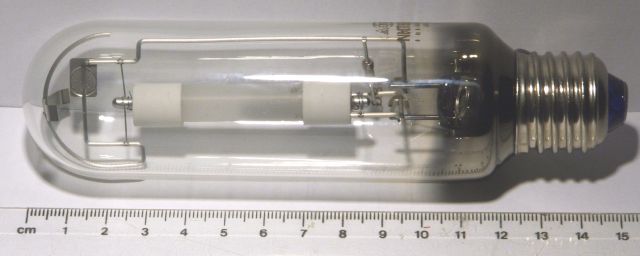 Iwasaki Eye NHT150SDX White SON Lamp - Showing size of lamp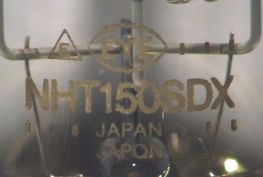 Iwasaki Eye NHT150SDX White SON Lamp - Detail of text printed on lamp

---
References:

Datasheets from Iwasaki Electric Company Website

Most of my background knowledge of White SON lamp technology learned from Lamptech
---
This page last updated:
19th June 2023: Changes to page formatting to improve readability on mobile devices, also made some background code changes to improve search engine behaviour.
---