Iwasaki Eye G8T5 8W Germicidal Lamp
---
WARNING! - THESE LAMPS PRODUCE DANGEROUS AMOUNTS OF SHORTWAVE ULTRAVIOLET RADIATION WHEN OPERATING - UNDER NO CIRCUMSTANCES SHOULD THEY BE OPERATED EXCEPT IN SAFETY INTERLOCK EQUIPPED FIXTURES FULLY CAPABLE OF BLOCKING THIS RADIATION AS IT IS HIGHLY HARMFUL TO BOTH THE EYES AND SKIN.
THESE LAMPS ARE NOT SUITABLE FOR GENERAL HOUSEHOLD LIGHTING!
Manufacturer:
Iwasaki Eye
Model:
G8T5
Application:
Specialist, UV

Sterilisation, EPROM erasing etc

Wattage:
8W
Diameter (max):
15mm
Length:
300mm
Tube Length:
265mm
Bulb/Tube material:
UV transmissive quartz
Colour Temperature:
Unknown
Peak output wavelength:
Approx 253.7nM
Total light output:
Very little.
Rated lifetime:
Not stated
Cap:
Bi-pin fluorescent fitting
Operating voltage:
Unknown
Operating current:
Unknown
Warmup/restrike time:
1 minute/none
Cost (original):
Unknown
Value (now):
Unknown
Place of manufacture:
Japan
Date of manufacture:
Unknown - code 4G present on lamp
Lamp Status:
Working
Firstly, I apologise for the photos here...they're less than great. I underestimated how tricky getting the lighting right to take photos of something this long and transparent was going to be (and don't even get me started on the fingerprints!).
This lamp isn't actually intended as a light source (though as you can see from the photos below, it does produce light), it's instead intended as a source of shortwave ultraviolet radiation (UV-C).
Just in case you missed the huge great yellow warning at the top of the page...do not, whatever you do, run one of these things in open air - they are designed to be dangerous to living cells - and as well as killing bacteria, will quite happily do really nasty things to the cells in your skin and your eyes. This basically manifests itself as a severe sunburn, but can lead to other far nastier conditions such as skin cancer, and degradation of the cornea in your eyes. One thing which makes this particularly hazardous is that symptoms of UV exposure can be delayed, often not reaching a peak until as much as half an hour after the event. Okay, so the cautionary bit's over...you want to know what's so special about this thing...and probably why it looks like a half finished fluorescent tube...
Well...the main reason it looks like a half finished fluorescent tube, is that both physically and electrically, it is identical to a fluorescent tube - minus the phosphor layer, and with a quartz envelope instead of a conventional glass one. The gas filling is exactly the same, the electrode construction is exactly the same, the end caps are exactly the same, and they even work in conventional fluorescent fittings.
The low pressure mercury vapour discharge in a fluorescent tube is actually extremely inefficient when it comes to producing visible light. What it does however, is produce a whole heap of shortwave ultraviolet radiation (in addition to a small amount of pale bluish green visible light). While no use for lighting a room, this ultraviolet radiation is extremely useful for exciting a phosphor, which then fluoresces - producing copious amounts of visible light very efficiently. The shortwave UV that is not absorbed by the phosphor layer is normally stopped by the glass wall of the tube. Shortwave UV has a relatively low ability to make its way through materials, hence normal soft glass and most plastics being able to stop it.
While in a normal fluorescent lamp, this shortwave UV is an integral part, but nothing of any real use to the outside world, it does have its uses. UV-C (UV radiation shorter than around 300nM in wavelength) is extremely effective at destroying bacteria, hence bombarding water with it is an effective way of removing bacteria which may be living in there (you will find these lamps in a number of commercial water coolers and "purifiers" by the way). It also serves as the means by which EPROM chips are erased (as the shortwave radiation bombarding the surface of the silicon increases its conductivity). Hence being able to produce these wavelengths without the need for messy things like open air carbon arcs is actually desirable, hence the development of these lamps. They are developed specifically to let all of the UV-C out of the lamp, with no phosphor layer, and a quartz tube.
These lamps are available in a number of standard fluorescent tube sizes (both linear and compact), easily identifiable by the "F" prefix in the model number being replaced with a "G" to indicate a germicidal lamp, and of course a lack of lamp colour indicator - as there's no phosphor to give details on.

Iwasaki Eye G8T5 8W Germicidal Lamp - General overview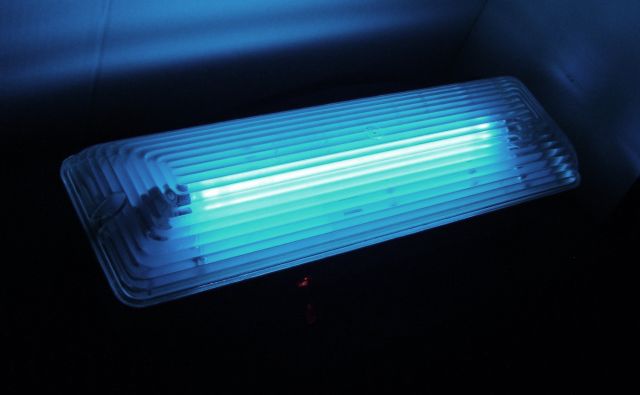 Iwasaki Eye G8T5 8W Germicidal Lamp - Shown while alight (albeit from behind a cover)
Iwasaki Eye G8T5 8W Germicidal Lamp - Size of lamp shown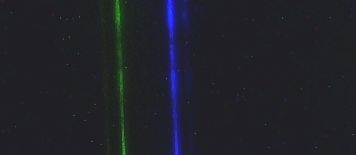 Iwasaki Eye G8T5 8W Germicidal Lamp Visible Output Spectra - I don't have the equipment to show the UV portion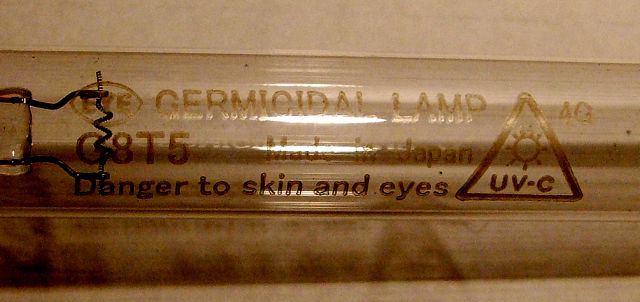 Iwasaki Eye G8T5 8W Germicidal Lamp - Detail of text printed on tube
---
This lamp added to the Virtual Display Shelf on the 18th January 2007 at 21:56.
---
References: None.
---
Acknowledgements: Many thanks to the website reader who donated this lamp for display!
---
This page last updated:
19th June 2023: Changes made to page formatting to improve readability on mobile devices, also made some changes to background page coding to improve search engine behaviour.
---