General Electric BIAX Electronic FLE11TBX/XM/GLS/827/B22/GEUK/1 Compact Fluorescent Lamp.
---
| | |
| --- | --- |
| Manufacturer: | General Electric |
| Model: | "Elegance" BIAX Electronic, FLE11TBX/XM/GLS/827/B22/GEUK/1 |
| Application: | General Lighting |
| Wattage: | 11W (11W measured) |
| Diameter (max): | 60mm (PS60 lamp shape) |
| Length: | 120mm |
| Tube Length: | Unknown - unable to see without disassembling lamp |
| Bulb/Tube material: | Outer - glass, internal opal coating. Inner - glass, colour 827 phosphor coating on inner surface |
| Colour Temperature: | 2700K CRI: Ra 82 |
| Peak output wavelength: | |
| Total light output: | 550Lm (50Lm/W) - Manufacturers claim. |
| Rated lifetime: | 8'000 Hours |
| Cap: | B22 |
| Operating voltage: | 230-240V AC 50-60Hz |
| Operating current: | 70mA (pf = 0.62) |
| Warmup/restrike time: | 1 minute/none (Preheat ballast) |
| Cost (original): | £1.78 (May 2006) from Inverurie branch of Tesco. |
| Value (now): | Unknown |
| Place of manufacture: | Hungary |
| Date of manufacture: | Unknown, codes 341EC and 340EB EOL on lamp body |
| Lamp Status: | Working |
If you're thinking this looks very similar - even suspiciously similar to another lamp on this website, you're either very observant, paranoid, or you read this website too much! You'd be right though. This is the rich brother to Tesco's re-badged one. Technically both lamps are identical - just that this one got a better deal where ballast components are concerned, being of slightly higher quality than the rebadged version. This is apparent in two ways; firstly the vastly increased lifetime - this lamp stating an 8'000 hour lifespan, rather than the Tesco version's 3'000 hours; secondly is that the power factor of this lamp is slightly superior. I would be surprised however if there was any difference in the glasswork.
This lifetime estimate not mean too much though. In my experience, the modern GE products such as this seem to have somewhat erratic life spans, either lasting only a few hundred hours, or going on for 10'000 plus. This is clearly a quality control issue on the part of GE - one which I would hope that they are aiming to fix. Cheap lamps or not - if they keep failing prematurely, the customer will start looking elsewhere.
Somewhat unusually, this lamp is not badged as being equivalent to a common rating of lamp - instead a more accurate claim of 55W incandescent equivalence. In most cases I would have expected the usual "60W" claim to have appeared, expecting people to just grumble a bit when the lamp is slightly dimmer than expected. Nice to see some slightly more realistic claims for a change.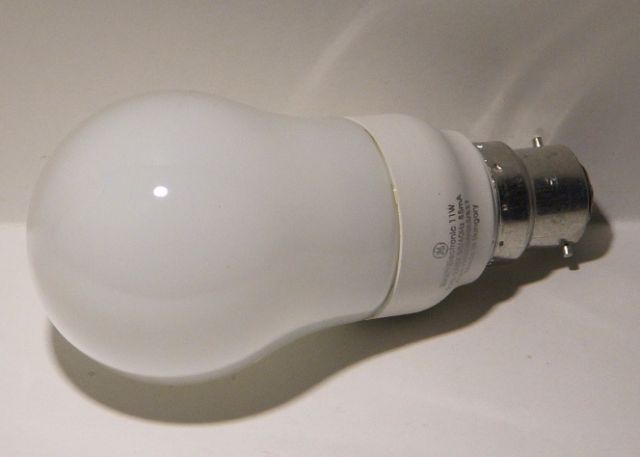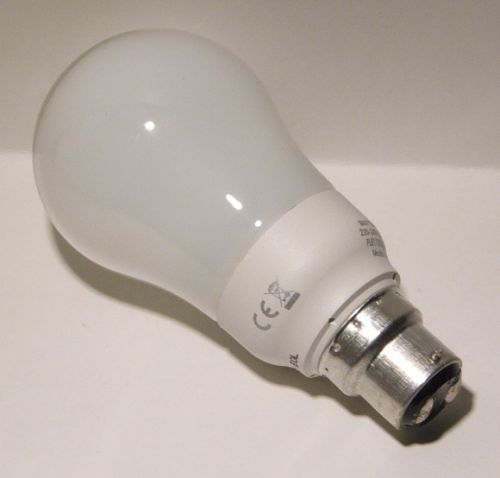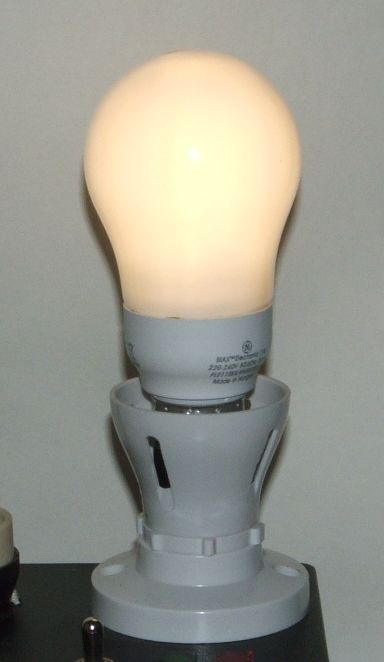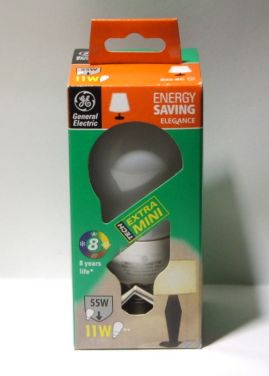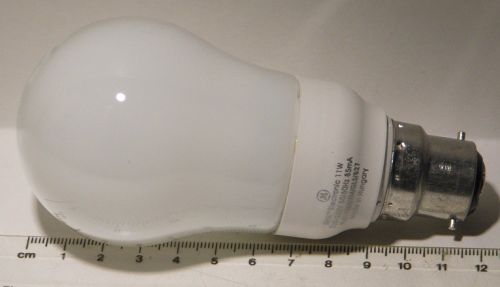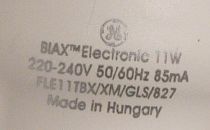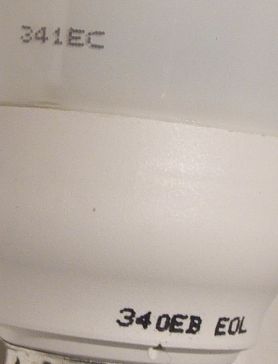 ---
This lamp added to the Virtual Display Shelf on the 10th June 2006 at 23:50.
---
References: Lamp packaging only.
---
Acknowledgements: None.
---
This page last updated on 13th June 2023: Changes to page formatting to improve readability on mobile devices and some background code changes to improve search engine optimisation.
---