Tesco FLE11TBX-XM-GLS-827-B22-TESCO/1 Compact Fluorescent Lamp.
---
Manufacturer:
Distributed by Tesco Stores Ltd. (Believed to be made by General Electric)
Model:
FLE11TBX-XM-GLS-827-B22-TESCO/1
Application:
General Lighting
Wattage:
11W (12W measured)
Diameter (max):
60mm (PS60 lamp shape)
Length:
120mm
Tube Length:
Unknown - unable to see without disassembling lamp
Bulb/Tube material:
Outer - glass, internal opal coating. Inner - glass, colour 827 phosphor coating on inner surface
Colour Temperature:
2700K CRI: Ra 82
Peak output wavelength:
Total light output:
550Lm (50Lm/W) - Manufacturers claim.
Rated lifetime:
3'000 Hours
Cap:
B22
Operating voltage:
230-240V AC 50-60Hz
Operating current:
80mA (pf = 0.58)
Warmup/restrike time:
1 minute/none (Preheat type ballast)
Cost (original):
£1.48 (May 2006) from Inverurie branch of Tesco.
Value (now):
Unknown
Place of manufacture:
Within European Union
Date of manufacture:
Unknown, codes 075FB and 073FA/S on lamp body
Lamp Status:
Working
Notes:

Very typical example of a modern (2006) low cost compact fluorescent lamp, as available in Tesco stores throughout the UK as part of their "Value" range of products - though possibly this model has now been discontinued, when I was there today (9th June 2006), they had been replaced with plain "2-U" style lamps, also looking like a GE product however. These lamps appear to be lower grade lamps made by GE for Tesco (and probably a bunch of other stores too, I've heard that Morrison's also use GE lamps, though I'm not so certain of that). GE produce a visually identical lamp (even the packing is identical in shape) as part of their "Elegance" range, which can be seen here, but it has a rated lifetime of 8'000 hours, opposed to this version's 3'000 hour lifetime. As with many of the lower cost CFLs, they're selling the energy saving more than the lifetime in this case.

Click Thumbnails for full size images.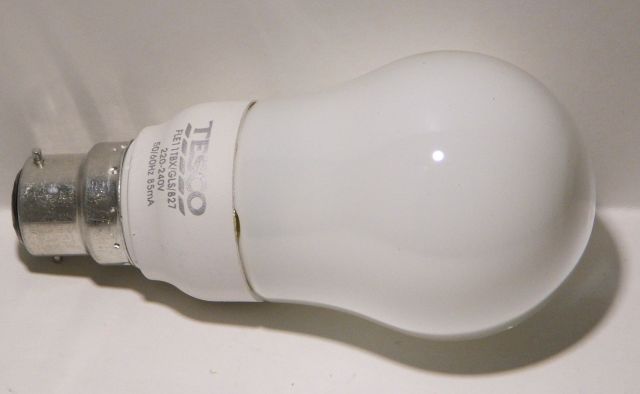 This lamp added to the Virtual Display Shelf on the 10th June 2006 at 00:23.
---
References: Lamp packaging only.
---
Acknowledgements: None.
---
Updates:
26th January 2021: Minor page formatting changes to improve readability on mobile devices.
28th April 2023: Revised Statcounter code to allow for HTTPS operation.
---